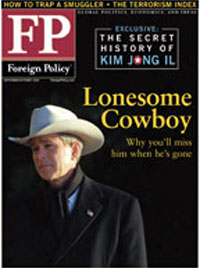 According to a heavily embargoed press release from The Washington Post Company's reps, the company has acquired Foreign Policy, the magazine and Web site formerly owned by the Carnegie Endowment for International Peace.
FP will become part of The Slate Group, which recently launched The Big Money, a business site.
Why this news is embargoed until approximately 3 P.M., we have no idea, but the release follows.
The Washington Post Company Acquires Foreign Policy Magazine
WASHINGTON—September 29, 2008—The Washington Post Company (NYSE: WPO) announced today that it has acquired Foreign Policy magazine, a two-time winner of the prestigious National Magazine Award for General Excellence. The magazine and its award-winning website, foreignpolicy.com, have been published by the Carnegie Endowment for International Peace, a think tank headquartered in Washington, DC.
"Foreign Policy is a terrific magazine, and I'm pleased it will become a part of our company," said Donald E. Graham, chairman and chief executive officer of The Washington Post Company. "We are committed to great magazine journalism, and I hope Foreign Policy will also become one more center of innovation that helps us expand our journalism in the online arena."
The magazine was founded as a quarterly journal in 1970; it was relaunched as a glossy bimonthly magazine in 2000 by its current editor and publisher, Moises Naím, who will remain editor-in-chief. Taking on the world of global politics, economics and ideas as its mission, FP draws on leading journalists, thinkers and foreign policy practitioners for its trademark analysis and insight. Susan Glasser, a longtime Washington Post editor and foreign correspondent who served as co-bureau chief in Moscow and covered the wars in Iraq and Afghanistan, will join Foreign Policy as executive editor. Foreign Policy will be part of The Slate Group.
"Foreign Policy is thrilled to join The Post Company," said Moises Naím, editor-in-chief of Foreign Policy. "In an era in which too many newspapers and magazines are retreating from international news, The Washington Post Company is smartly bucking the trend. Serving the expanding market of readers eager to understand how events in other countries affect them is what FP is all about, and that is why we are so excited to have The Washington Post Company as our new home."
Foreign Policy, which is published in eight foreign-language editions and has a circulation of 100,000, also produces a fast-growing website and an award-winning daily blog, Passport. The magazine has been nominated for a National Magazine Award for General Excellence for the past four years and won the award in both 2003 and 2007. "Always authoritative but never heavy-handed, Foreign Policy delivers on its mission to take readers beyond the facts to understand how the world works," said the citation for last year's award.