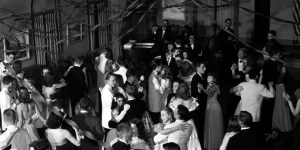 When Daily Transom first broke the story about the opening of Greenwich Village High School—a new private school founded by Vanity Fair deputy editor, Aimee Bell—little information was available other than an earnest slogan: "Work Hard, Be Kind, Take Risks."
But in today's Times piece about the high school, we learned that Ms. Bell's little project happens to be backed by some important names including her boss, Vanity Fair editor Graydon Carter, president of the New School Bob Kerrey and his wife, television and film writer Sara Paley, actor John Leguizamo, and President of Scholastic Richard Robinson.
The Daily Transom asked Mr. Carter at his book party on Monday night about his involvement in the school; he said he was serving "only as a friend." But friendships with Graydon Carter usually come with benefits, as patrons of the Wavery Inn know.
Benefactors certainly have been kind. The school's board of 18 members has already donated $3 million for start-up costs and plans to raise $12 to $17 million more over the next five years. (We expect to be scratching the Greenwich Village High School Spring gala into our calendars any day now.)
Ms. Bell reportedly "dreamed" up the school over breakfast at Balthazar with her West 11th Street neighbor, Sara Goodman, great-granddaughter of Bergdorf Goodman founder Edwin Goodman. Ms. Goodman attended The Dalton School, but told the Times that she wanted her two daughters, Georgia, 9, and Lily, 6, to be part of a "downtown community."
The ladies expect the school to grow to 360 students by 2013 with tuition set on a sliding scale from $1,000 to $34,729 (what!). Somehow, Ms. Goodman believes that the $1,000 dollar kids won't be sorted out from the $30,000 kids after first bell.
Wise Village parents who put themselves on the low end of the sliding scale may want to get their rent-controlled butts in gear: All applications are due in January at which point 45 9th graders that will be selected to enroll in the fall of 2009. And Ms. Bell has already received applications from families across Manhattan, Hoboken and Jersey City.