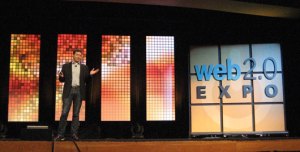 David Rose, chairman of the New York Angels, a consortium of investors to new-media start-up companies, remembers a time when he was losing his best Internet and software engineers to big-time Wall Street firms offering six-figure salaries and fat bonus checks. "We're paying them a decent Web 2.0 start-up salary, but then they get an offer from JPMorgan Chase for $300,000 a year," he said at a Web 2.0 Expo conference at the Javits Center on Sept. 18, throwing his hands up and shaking his head. "What can I say? 'Please, go, get outta here. You're fired, go take that job.'"
But now, he said, they're coming back.
Some 40,000 of the best-paying jobs in the city are slated to disappear as Goldman Sachs and Morgan Stanley transform into bank holding companies, and the New York technology community is inviting some of the city's best engineering and programming heavyweights back into start-up world. At the conference, Mr. Rose was addressing the topic of "Starting Up in Silicon Alley," just two days after Wall Street's fiscal collapse.
Despite the doom and gloom in the headlines, the overall mood at the four-day conference seemed spritely, perhaps because a bunch of new talent has just been released from the banks. Small Internet companies are salivating for those keyboard whizzes who can create complicated math and computing solutions for Internet and software services.
Fred Wilson, a venture capitalist and principal of Union Square Ventures, called them "quant jocks": "people who have degrees in economics and/or advanced math who know how to code algorithms," Mr. Wilson wrote in his blog. "We need such people in almost every single one of our companies." Union Square Ventures funds such promising start-ups as Tumblr, a mixed-media blogging platform, and Twitter, another microblogging site that has become a staple tool for chronic social networkers. Once the fiscal crisis news hit the papers, he and other VCs immediately began soliciting résumés from ex-Wall Streeters online.
On Sept. 15, Joshua Kopelman, managing partner of FirstRound Capital, a Pennsylvania-based early-stage venture capital firm, created a Web site: leavewallstreetjoinastartup.com. "These days, startups are more stable than Wall Street (seriously)," he wrote against a simple white backdrop. "And while a startup probably won't offer the creature comforts of a job in the financial services industry, startups offer different benefits. You get to participate in the creation of something new. Your work makes a direct (and clear) impact on the success or failure of the company. No more politics, endless meetings, or multi-layered organization structures. Plus, you'll likely get stock options to share the upside."
Oooh—stock options! It's sounding like 1998 all over again! We got Mr. Kopelman on the phone: "There's people that sought out Wall Street for its job stability," he said, "but now they're really feeling the anxiety because of its instability. The concept was just to create a small venue to expose them to the fact that there are dozen of positions available for them."
Mr. Kopelman included a few links to job opportunities in FirstRound Capital's portfolio companies (including software engineer and Web developer positions), as well as other New York-based companies like Angelsoft, a Web-based platform that helps start-ups find the right venture and angel funding through social networking.
Ryan Janssen, chief operating officer at Angelsoft, said the company has been looking for a Web developer for the past six months. "It's been garbage," he said. But "literally, on Monday it just all turned around. We got hundreds of really qualified applicants. … It's kind of out of control."
He added: "I'm kind of an evil person, I kind of like the recession. I don't like it when things are all frothy and inflated."
Others seemed equally excited.
"This is probably one of my favorite times to find opportunities," said Karin Klein, the vice president of SoftBank Capital, another independent venture capital firm that invests in early-stage start-ups. She was also speaking at the Expo, during the "Starting Up in Silicon Alley" conference. "The entrepreneurs who are starting businesses now are really committed, and they're the ones who think their idea is so brilliant that they're going to defy all odds."
Ms. Klein predicted that the banks will yield two kinds of employees: "There's going to be people who are going to be temporary, who are just trying to get a salary and find an alternative in the interim. The second group, which I find much more compelling, were not really loving their job at an investment bank and now have an opportunity to be part of a team and really get excited about the DNA of creating something big. Once those people get a taste of what start-up life is like?" They'll have 'em in their grips!
Surely, life at a brand new Internet company seems alluring: possibly later mornings (though there will certainly be later evenings), lunches at Shake Shack, a sense of community and camaraderie with co-workers, and best of all: an opportunity to tune into another passion (like sports or crafting) instead of making money for other people.
But Adam Brown, a press representative for the Brooklyn-based site Etsy.com, which helps independent designers and crafters sell their wares on the Internet, was skeptical that the transition would be completely smooth. "It's really about a cultural fit for us," he said. "The way we are here is the opposite of Wall Street, ethically."
Meanwhile, forget about bonuses: Some start-ups don't even have health plans, and many engineers will have to downgrade to a five-figure salary.
But with some venture funding, some start-ups are offering competitive packages. Charlie O'Donnell has his own start-up company, Path 101, a Web site with social networking and career tools to help people find the right career. "My college friend joined a startup as a developer right out of school, spent two years there, and when it got bought up, he pocketed a couple hundred grand—not too shabby for a 24 year old kid who was employee number 8," he wrote The Observer in an e-mail.
Not too shabby, indeed!
"The key is that, with a startup, you get equity upside," Mr. O'Donnell continued. "Sure, not every company pans out, but when they do, it can be a big win."
greagan@observer.com