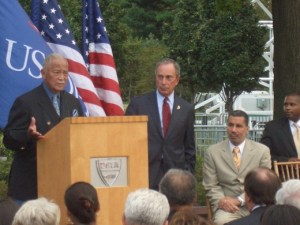 Yesterday, the city named the entryway outside the tennis campus in Flushing, "The David Dinkins Circle." The entryway is that unremarkable circular promenade that's beyond the 7 train stop in Flushing, a bit beyond the boardwalk, that leads you either to the Open, or the Flushing Meadows Park.
Yesterday, Michael Bloomberg, David Paterson, Betsy Gotbaum and Ed Koch were on hand to honor David Dinkins.
"There was a time, not too long ago, when New York was in very real danger of losing this event," said Mr. Dinkins. "The USTA was looking for a committment from our city to ensure that this jewel of a tournament would have a place to call home for years to come…As mayor, I of course knew that it was important to keep the U.S. Open in New York."
The event itself was full of very self-contented back-patting, and it didn't take long for most of the fans lingering nearby to move on and watch the end of the Federer match inside.