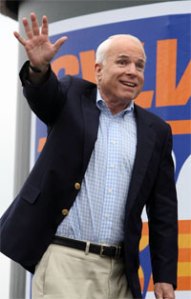 So what happens if Senator John McCain actually skips tomorrow night's highly anticipated first presidential debate?
Marisa Guthrie of Broadcasting & Cable posed the question to a number of TV executives.
"If McCain does decide to forgo the debate, it will not be easy to reschedule," writes Ms. Guthrie. "The planning and security make it all but impossible to relocate the debate to a different date or venue. Television time is negotiated months in advance. And with the broadcast networks in the thick of fall premieres, finding an acceptable alternative to roadblock hours of TV time would be very difficult."
More from the article:
'There is a limited window of opportunity,' [Jay] Wallace [vice president of news editorial product at Fox News] said. 'Security at these things is months in the planning. And the networks are not going to want to give up real estate. It's crunch time with the fall shows coming on and the baseball playoffs. The networks are there to make money. They're already challenged by the sagging economy. The window is Friday night.'
'America is glued to this election,' Wallace added. 'And I think all of us are hopeful that [the debate] happens.'