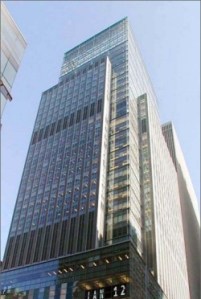 What do Lehman Brothers' epic troubles mean for New York City real estate? Two recent articles surmise that, should the bank's troubles continue to worsen, it might just consider selling its world headquarters at 745 Seventh Avenue, which Lehman bought in 2001 for $700 million, and which brokers estimate could now be worth upwards of $1 billion.
The Financial Times speculates that:
The value of Lehman's tower at 745 Seventh Avenue and 49th Street could also be an important factor in any possible takeover – as was proved with the fire sale of Bear Stearns in March.
Bear offered a guarantee that JPMorgan Chase, the stricken investment bank's eventual acquirer, could buy its Manhattan headquarters even if a deal for the whole company fell through.
Lehman's tower has 1.1m square feet of space, including 75,000 sq ft for shops, and was originally developed for Morgan Stanley.
Meanwhile, Reuters is reporting that Lehman has already begun putting other slices of its 2.2 million-square-foot Manhattan office space empire on the block:
"The Wall Street firm owns or leases more than 2.2 million square feet of office space in midtown Manhattan. It has more than 300,000 square feet of office sublet space on the market — 135,000 square feet at 605 Third Ave, as well as 165,000 square feet at Boston Properties Inc's 399 Park Ave.
Unofficially, Lehman is also offering another 400,000 square feet of sublet space at Rockefeller Centers' 1271 Avenue of the Americas and at 1301 Avenue of the Americas, owned by Paramount Group, three sources familiar with the matter said."
This can only be ill tidings for landlords — and good news for tenants. As the amount of vacant space grows, competition among landlords to snag good tenants increases, and taking rents fall.