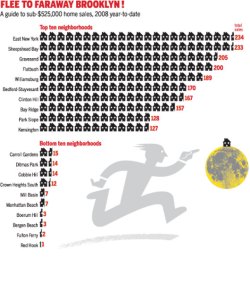 Economic troubles be damned, people are still snagging Brooklyn homes—just not where you'd expect. First-time buyers are eschewing familiar environs like Carroll Gardens, Brooklyn Heights, and Prospect Heights for the borough's far south and east corners.
In the second quarter of 2008, the median home sales price for Brooklyn was $525,000, according to a report from appraiser Miller Samuel; the bulk of the affordable sales below that middle price point have been in far-flung neighborhoods like Sheepshead Bay and East New York, according to data compiled by research firm StreetEasy.
Cheap property prices often entice young people, especially first-time home buyers who don't have the capital or the fabulous credit to buy in the more established (and expensive) bobo Brooklyn neighborhoods.
There are more than 40 neighborhoods in Brooklyn, and of the 3,766 homes sold under $525,000 in Brooklyn so far this year nearly half are within the 10 neighborhoods of Sheepshead Bay, Kensington, Flatbush, Gravesend, East New York, Clinton Hill, Bay Ridge, Bedford-Stuyvesant, Williamsburg and Park Slope. Of those 10 neighborhoods, only Clinton Hill, Park Slope and Williamsburg are northwest of Prospect Park.
In 2008, there have been 233 closed sales on homes below the median price in Sheepshead Bay, the seaside community in southeast Brooklyn. But who, exactly, are the bargain hunters gobbling up all the properties there?
According to Theresa Scavo, chairperson of Community Board 15, Sheepshead Bay has seen a dramatic increase in the number of first-time home buyers in recent months, including significant numbers of Asian, Russian and Turkish buyers. The newish condos have brought in a high number of B-train-riding Manhattan commuters who, according to Ms. Scavo, have transitioned smoothly into the neighborhood, once a predominately Italian and Irish community.
From June to August, the median sales price for a home in Sheepshead Bay was $530,000, according to statistics from Trulia.com, about half the $1,100,000 median sales price for a home in Cobble Hill for the same period and $300,000 less than the $850,000 median sales price in Boerum Hill.
For first-time buyers, the trade-off between convenience and environment often leads to longer commutes but quieter home living. Julia Seltzer, a 33-year-old transportation planner, and her husband bought a house in Kensington in 2004. Ms. Seltzer travels 45 minutes to and from midtown Manhattan every day.
After renting a house with her husband in Bensonhurst for four years, Ms. Seltzer knew she wanted to buy a home in a similarly quiet Brooklyn neighborhood.
She and her husband live in a three-bedroom postwar co-op, and it took them two years and countless trips to Bay Ridge, Fort Greene and Carroll Gardens to find it. They paid $313,000 for their apartment back in 2004, and similar units in the neighborhood are now on the market for over $500,000.
"We like the neighborhood a lot," Ms. Seltzer said. "We like that it is safe, close to the train and a five-minute walk to Prospect Park."
Back in her postcollege years, Ms. Seltzer, who was born and raised in Queens, thought about living in Manhattan, but she's happy where she is now. "It's nice not to have 100 people running outside your door every day. It's quiet and more relaxing in Brooklyn and it feels more neighborhoody here than in Manhattan."
During the peak years of New York's real estate boom, property values rose significantly in some unheralded neighborhoods. For example, the prices for Victorian row houses in Ditmas Park started to climb beyond $1 million last year.
With today's terrible economy, it's doubtful that anything like that will happen in places like East New York or Flatbush. According to Brooklyn-based broker Jeff Grandis, the sour economy "has really slowed things down."
ohaydock@observer.com