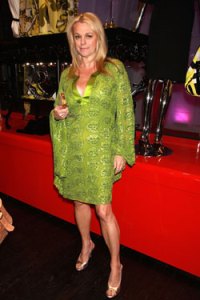 Doubles, the exclusive private club in the basement of the Sherry-Netherland Hotel at Fifth Avenue and 59th Street, reopened all spruced up on the evening of Wednesday, Sept. 17. The carpet was new, as were the wall coverings and the crocodile banquettes. Everything was in a rose salmon color. "You glow," said Doubles chairwoman Wendy Carduner. "Everyone looks superb here. This is the most complementary color."
As party guests began to trickle in, interior designer Tom Britt, the dapper 68-year-old who started working on the revivification last February with his associate Valentino Samsonadze, was holding court by the dance floor.
"What we did is try to get rid of all the bullshit that was in here," he said. "You know, you sweep it out and try to bring it back to the bones that it had." Mr. Britt has been a member since the late jet-set decorator Valerian Rybar transformed Raffles into Doubles back in 1976. "It was loads of fun because you could come here and have dinner and then we'd jump in a car and race to Studio 54. So this was a little warm-up for me, to go on to Studio."
"It's such a pocket club, in the sense that it's really squirreled away. It's not broadcasting itself, it's kind of an in-the-know sort of place; it's got this hidden door with enormous brassy gold handles and suddenly you descend into this world," said Town & Country senior editor Tom Farley. "I think there's something genuinely comforting in being able to enter a space like this that's a touchstone to particularly prosperous periods of New York history, while all that chaos is going on. I'm feeling like I'm on a cruise! There's just food everywhere. Even these dessert items are a touchstone to another era. And you also don't see that same restraint that you typically see at a New York party, where people are kind of dabbling, eating one blueberry. I think the Upper East Side is out in force tonight. They're excited to be here."
Socialite and Avenue magazine correspondent Debbie Bancroft said she had been to Doubles "hundreds of times" since it opened—her husband's father was one of the founders. "The good news is, I don't remember a lot of them, you know—I guess I had a good time," she said, walking up the stairs on her way to the Philharmonic. All of a sudden she stopped and examined something on a mirror on the wall.
"I think it's gone now, yeah, they polished it out," she said. "Billy Bancroft told me he loved me for the first time in front of one of these copper things, and we took at a quarter, and we carved a little niche in it. And the niche is gone, what does that tell you? It was on our way out, of course, after copious amounts of wine. He stopped right here, just like this, and said, 'I love you.' And I said oh, I want to remember this place and this moment forever."
ggurley@observer.com