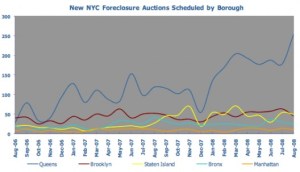 Queens, once again in August, spurred a citywide spike in foreclosures.
The number of first-time residential foreclosure auctions in Queens jumped nearly 43 percent from July to August to 254, according to a new report from research site PropertyShark (PDF). That amount accounted for over two-thirds of the city's 383 first-time foreclosure auctions last month, a jump from 338 in July.
Queens, with its homeownership rate of 47 percent (according to 2006 numbers from N.Y.U.) higher than the city's 34.4 percent rate, seems fertile ground for its unenviable leadership role in residential foreclosures. The higher number of owner-occupied homes may only be exacerbating the problem.
"Over the last year, a staggering 73 percent of properties at foreclosure auctions in Queens went back to the lender," PropertyShark's chief executive Bill Staniford said in the report, "and almost 75 percent of those properties have still not sold on the open market."
Take Queens out of the equation, and the city's foreclosure picture looks relatively rosy.
In fact, Brooklyn, Staten Island, the Bronx and Manhattan all saw monthly drops in August.
Manhattan had 11 first-time foreclosure auctions in August, the same amount it had in August 2007, and in line with a general trend of the borough being insulated from the foreclosure wave cresting nationwide and just across the bridges.
The number of first-time Brooklyn foreclosures this past August was 45, down from 52 the same month last year.