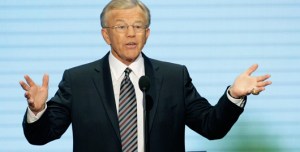 One constituency in particular has proven especially fruitful for the Republican Party through the years: Prominent football coaches. For whatever reason – a natural sympathy for autocratic leadership, perhaps? – the G.O.P. has had no shortage of sideline generals to showcase through the years, a tradition that the party will renew tonight when former Washington Redskins coach Joe Gibbs addresses the convention just before 9:00.
Other well-known coaches who have assumed prominent roles in Republican Party politics through the years include:
* Bud Wilkinson – Led the Oklahoma Sooners to three national titles and 145 victories – including a 47-game winning streak between 1953 and 1957 – before seeking to parlay his in-state popularity into a 1964 U.S. Senate bid. After losing that race to Democrat Fred Harris (who went on to run for president in 1976), Wilkinson became a college football commentator on television and briefly returned to coaching in a disastrous two-year stint with the St. Louis Cardinals in the late '70s.
* Tom Osborne – Racked up 13 Big-8/Big-12 conference titles and three national titles in a 25-year-run as coach of the Nebraska Cornhuskers. Osborne emerged from his surprise retirement after the 1997 season to run for Congress from Nebraska's sprawling 3rd District. He was elected with nearly unanimous support, and re-elected with ease in 2002 and 2004. When Mike Johanns quit his job as Nebraska's governor to accept a cabinet post in 2005, Osborne entered the race to succeed him – and initially led interim Governor Dave Heinemann by nearly 80 percent in G.O.P. primary polls. But Heinemann used his incumbency skillfully and positioned himself to the right of Osborne and won the May 2006 primary. A year later, Osborne returned to the University of Nebraska as athletic director.
* Joe Paterno – The legendary Penn State football coach, who won national titles in 1982 and 1986 and coached several unbeaten-but-uncrowned teams, resisted several entreaties through the years to enter politics and run for governor or U.S. Senate in Pennsylvania. A close friend of the Bush family, he appeared at late-October rallies for George H.W. Bush in 1992 and for George W. Bush in 2000 and 2004 in State College, though his endorsement failed to swing the state to the G.O.P. in any of those years. His son Scott ran for Congress as a Republican in 2004 in a central Pennsylvania district but was handily defeated.
* Lou Holtz – The famous Notre Dame (and five other schools) coach is an avowed Republican who delivered a pep talk at the House G.O.P.'s annual retreat last year, their first such gathering after losing control of the House. He's contributed extensively to Republican candidates – including John McCain, John Boehner, and Dan Quayle – and got in some hot water 25 years ago, when he filmed a television ad (as the head coach of the Arkansas Razorbacks) for Jesse Helms. At the time, Holtz characterized his endorsement as personal, and not political. He has donated to some Democrats, most notably Hillary Clinton – presumably a thank-you for the assistance that Bill Clinton provided him when, as Arkansas' attorney general in 1977, he worked on Holtz's behalf when the coach suspended three Razorback players just before the Orange Bowl.
* Mike Ditka: The famous Bears coach nearly entered the 2004 U.S. Senate race in Illinois, when state Republican leaders asked him to replace Jack Ryan, who had been forced from the race in scandal, as their nominee against Barack Obama. Ditka, enjoying a successful run as a television commentator and movie star, ultimately declined, and the G.O.P. nomination was finally handed to Alan Keyes. Ditka has given more than $12,000 to G.O.P. candidates and committees this decade.
* Bobby Bowden: The aging Florida State mentor, whose teams have succumbed to mediocrity in recent years after dominating the college football world for 15 years, is an outspoken Republican who, when his teams were vying for national titles, was fond of likening his sport's poll system to presidential politics – and to pointing out that he had voted for the Republican candidate in the most recent election.
By comparison, the Democrats don't really boast any outspoken loyalists from the ranks of prominent football coaches – although Bill Belichick has (with his typical lack of enthusiasm and elaboration) identified himself as a Democrat.
They do slightly better – again, for whatever reason – when it comes to basketball coaches. Dean Smith is an avowed Democrat whose name was frequently invoked by Elizabeth Edwards, his fellow North Carolinian, on the campaign trail this year. And Rick Majerus, the well-fed former Utah coach who is now with the St. Louis Billikens, suffered a public rebuke from his Archbishop for endorsing and appearing at a rally for Hillary Clinton earlier this year. He is also known to send handwritten letters of protest to the governor of any state that executes a prisoner.