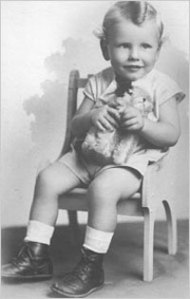 From Janet Maslin's review of Alice Schroeder's new Warren Buffett biography The Snowball:
Ms. Schroeder is as insightful about her subject's precise anticipation of current financial crises as she is about his quirky personal story. And she is a clear explicator of fiscal issues. This sprawling, colorful biography will mesmerize anyone interested in who Mr. Buffett is or how he got that way.
A photo of Mr. Buffett at age 2 shows him grinning cryptically while clutching a toy tightly to his chest. It goes without saying that he was an unusual child.
Here's the photo she's referring to, which appears to show a toddler with a toy. Cryptic, indeed.