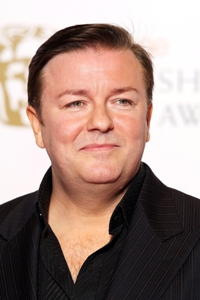 Like everyone else who actually watched the Emmy Awards on Sunday (and based on the ratings, there weren't many of you), we were floored at how awesome Ricky Gervais was.
Perhaps it was a case of perfect timing. Mr. Gervais was certainly funny; his line reading of "look at his stupid face," directed at Steve Carell, still has us laughing-out-loud this very moment. However, compared to the Comedy Armageddon that was going on around him (Emmy Winner Jeremy Piven compared the show to Springtime for Hitler) Mr. Gervais was the Second Coming.
It should come as no surprise then, that after his appearance, people are talking about Ricky Gervais hosting the Academy Awards in 2009. Entertainment Weekly is reporting that his representatives were "besieged with inquiries about his availability and were urged to book a meeting with Academy Awards organizers, stat."
We love this idea! Mr. Gervais is the perfect host for the Oscars, partially because he seems to have a true disdain for all things Hollywood. It would be like a Friar's Club roast for stuffy stars!
We wouldn't miss it for the world, but we might be the exception. As Mr. Gervais himself said on Sunday, he's a "nobody here." And based on Ghost World's paltry $5 million gross this weekend, it's hard to argue with that statement. Still the thought of Mr. Gervais gloriously sneering his way through the four-hour telecast has us positively giddy.