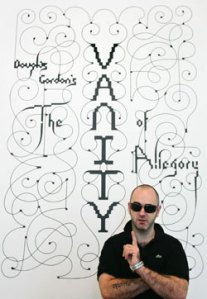 There was once a time when Soho apartments actually belonged to artists, who would then sell their apartments to other artists, as opposed to, say, balding, Diesel-shirted hedge fund executives. Nowadays, there remains a tiny sliver of artist-to-artist sales in New York City, even deals between artists represented by the same galleries.
But it's not that those artists are friends who drink gin together and share cigarettes (or an even slightly defined neighborhood community).
Earlier this month, the epic Glasgow-born video artist Douglas Gordon (he does photography and sculpture, too) sold his 2,000-square-foot loft at 225 Lafayette Street, where, according to phone records, director Wes Anderson and Theodora (model daughter of Keith) Richards also have places.
The buyer is the Italian photographer Elisa Sighicelli (she does video art, too), another 40-or-so artist represented by the Gagosian Gallery, who paid $3 million, according to city records.
The listing broker, Cynthia Fitzgerald from Halstead, wouldn't speak about the sale itself, but she said the artists, despite their shared dealer, didn't know each other. "When she walked into the apartment, she immediately recognized the art, because it's fairly specific art," she said. "I mean, everyone would realize who it was if they're in the art world." (Even those not so in-the-know might make inferences from the very large, well-framed poster for Mr. Gordon's documentary on Zinedine Zidane.)
"It took a while before she finally sort of admitted who she was," the broker said, "and then it was just kind of funny, because this woman has come all the way from Italy and basically into the apartment of one of her peers."
Either way, the photographer now has a very nice sprawl in a 1920s condominium designed by Cass Gilbert, who, as Ms. Fitzgerald pointed out, designed the Woolworth Building. "It's like living—the light is blinding—it's like living on a ship in the sky, in a way."
mabelson@observer.com