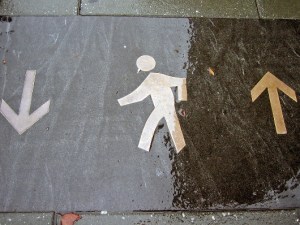 Walk Score is a Web site that tells you what you already know: In your New York City neighborhood, you can walk places, a lot more places than in a lot of other neighborhoods.
With the help of Google's local data, Walk Score rates properties between 1 and 100, based on the number of amenities located within a one-mile radius of its address. The aim is to measure what was once subjective, to quantify the "walkability"–the ease of living a car-free lifestyle–of neighborhoods across the United States.
Walk Score garnered media attention last July, when it ranked the walkability of the 40 largest cities in the United States and compiled a list of the country's 2,508 most walkable neighborhoods. Tribeca, Soho and Little Italy made the list; New York City as a whole came in second to San Francisco.
"We're not real estate people or land-use planning people," said Mike Mathieu, the founder and chairman of Front Seat, the software company that built Walk Score, "so we looked at it more from the concept of, in a real estate market, we're trying to bring transparency around walkability."
BUT WHAT DOES IT mean to decide that one city is three points less walkable than another? If Staten Island had a few more bodegas, would we best Frisco? And should we even care?
Recent studies have shown that walkability is profitable. In 1999, Charles C. Tu and Mark J. Eppli of George Washington University analyzed certain mixed-use, planned communities across the United States, concluding that consumers were willing to pay 12 percent more for walkable real estate.
According to Christopher Leinberger, a visiting fellow at the Brookings Institution and a member of Walk Score's advisory board, square footage in walkable urban neighborhoods goes for between 40 and 200 percent more than in comparable drivable suburban areas.
"This is a complete reversal of the market situation 20 years ago," wrote Mr. Leinberger in an e-mail, "when you went to the central city for the best value (lowest price per square foot). This reflects the structural, as opposed to cyclical, shift we are seeing in market demand," as young professionals and empty-nesters move out of the suburbs and into the cities.
Since launching in 2007, Walk Score has hosted four million address searches. In a recent survey, the software company found that two-thirds of the Web site's visitors were there to make real estate decisions.
Mr. Mathieu is convinced that New Yorkers specifically will take advantage of the Web site's offerings: checking the walk score of a potential property is like a virtual drive by.
"I think Walk Score is least useful for someplace that's way out in the boondocks where there's nothing around," he wrote in an e-mail. "You already know that if you live there, so it doesn't help so much. On the other hand, if you look at the walkability map for New York … you'll see that while Manhattan is pretty much uniformly Walker's Paradise, other borough's [sic] and neighborhoods vary quite a bit, so I think it's still very relevant."
THIS FALL, WALK SCORE will expand to bring the service to property listings sites nationwide. Several brokers–such as Fox Residential Group, Gumley Haft Kleier and a handful who link to the site via Craigslist–already use the Real Estate Tile, a mini-version of Walk Score that can be embedded on other Web pages.
"The idea is that when you're browsing," Mr. Mathieu said, "you can say, 'This house is $450,000 and it's got three bedrooms, two-and-a-half baths, 2,800-square-feet, and it has a Walk Score of 94.' Or, the next level is to be able to do that search and use it as a filter."
But, at least at Gumley Haft Kleier, that's not happening yet.
Robert Morgenstern, an executive vice president at the brokerage, noted that Walk Score has helped his brokers and their clients familiarize themselves with local retail (ironically, without having to walk). "It hasn't gotten to the point where people are saying, 'This is an important piece of data for me,'" he said, especially in Manhattan, where retail is dense.
"I think it's been an overall plus for our Web site," Mr. Morgenstern said. "But I can't say there's a quantifiable, that there's been deals done because of Walk Score. It's often hard to know what made somebody buy an apartment."
At present, Walk Score has a number of blind spots, most notably the absence of transit data. (Mr. Mathieu says the company is talking to Google about including it. Google did not respond to emails or phone calls.) And there continue to be glitches with the information used to tally amenities. In Park Slope, for example, the Brooklyn Artists Gym, an artist's studio, is listed as a fitness center.
Mr. Mathieu is confident that the walk scores are accurate, given that a variety of factors are taken into account when determining an address' score.
"We've had almost five million people [use the site] and they kind of all nod their heads and say, 'Yeah, that's about right. The house I grew up in was more walkable than the one I'm in now.'"