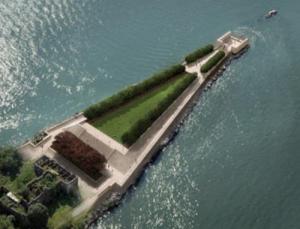 The Great Depression attended a small fundraiser Thursday night in the Riverhouse co-op for the Franklin D. Roosevelt Four Freedoms Park Trees Project.
But never mind the trees (though you can sponsor one at the forthcoming park for $50,000 a pop). Who will be the FDR of 2008?
"People will decide this Tuesday," said William vanden Heuvel with a smile.
Mr. vanden Heuvel, the founder and chair emeritus of the Franklin and Eleanor Roosevelt Institute (and father of The Nation editor Katrina), gave the fundraising pitch in a speech that included references to Ronald Reagan's admiration of FDR and Governor David Paterson's support for the 13-acre Four Freedoms Park planned for the southern tip of Roosevelt Island.
About a dozen guests noshed shrimp and drank wine in Harrison and Leslie Bains' ninth-floor spread, with its spacious views of the East River. They regarded color mock-ups of the park designed by the late Louis Kahn. Among the guests were the widow of former New York congressman Franklin D. Roosevelt Jr.; local City Council member Jessica Lappin; State Senator Liz Kreuger; and mega-real estate broker Kathy Sloane, vice chair of the Franklin and Eleanor Roosevelt Institute LLC created to oversee the park's construction.
That construction is expected to start by the end of 2009. The dedication next fall will include, as Mr. vanden Heuvel auspiciously put it at one point, "the president of the United States," whomever that may be.
Around 8, the small crowd trickled out. Hugo Scheltema, the consul general for the Netherlands, stepped onto a narrow elevator toward the Riverhouse lobby.
What did the Dutch think of the presidential election?
"Of course, this election holds great interest for Europe," Mr. Scheltema said. "We follow it with a great deal of interest. And we're sure the American people make the right choice. … I think it's a great campaign. I followed it passionately. Although we have no voting rights here, you almost think that you should have!"
Who do the Dutch in New York think will win?
"Well, they go both ways, I suppose," the diplomat said diplomatically. "But I think there's no secret that a number of people in Europe also very much think that this is a time of change. Obviously, both candidates pretend that they do change. That is what I can say."