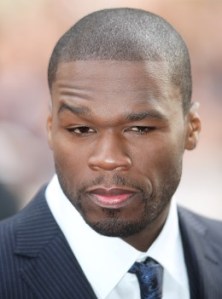 While Kanye West—50 Cent's one-time rival—makes headlines for his actual music, Fiddy seems content to bask in the comfy glow of reality television (and tie-in consumerism). According to a press release on Nah Right (via Idolator), it seems MTV's "50 Cent: The Money and the Power" (set to premiere on November 6) is a sort of hip-hop version of The Apprentice in which 50 plays The Trump and 14 "wannabe moguls" play Donald's lowly apprentices. Except, in this case, the poor mini-moguls have to sleep in tents on the floor of some ratty Brooklyn warehouse—which, we kid you not, is called "Camp Curtis." (At least the tents are named after NYC boroughs, so the kids won't feel too far from home.) And yes, Michael Hirschorn is an executive producer.
During the show, master capitalist 50 subjects his poor droogs to "inventive challenges that 50 Cent helped to create, while mastering the skills that took the rapper from his hard-knock life to the top of corporate America." (So what, they have to drink Vitamin Water?) "Each week," the press release continues. "50 Cent will narrow down his search by testing the candidates on the knowledge he has taught them while pushing them to their limit." The winner—i.e. the lucky soul who maintains the "strongest combination of business flair, strength, ambition, and fearlessness"—will win $100,000, thus "pav[ing] the way to future mogul status."
Of course, all this rigmarole is simply a ten-hour commercial for Fiddy's latest entrepreneurial endeavor, The 50th Law—co-authored by Robert Greene (The 48 Laws of Power)—in which Mr. Cent "share(s) the lessons he learned as a street hustler and how those lessons allowed him to become the massive success he is today." Apparently, 50 Cent does actually have some music in the pipeline. The eerily prescient, Before I Self-Destruct hit stores on December 9.