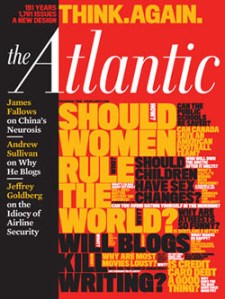 With nearly every headline about the future of print media a grim one, last evening seemed like bad timing for the re-branding of a 150-year-old thought-leader magazine often seen as stodgy and behind the times.
But it was an unseasonably warm autumn night, the moon was full, the Dow had recovered a historic 936 points the day before–and The Atlantic was super-excited about their new brand.
The re-branding campaign and redesign of the magazine and website had been six months and a $1.5 million campaign budget in the making, with the help of EuroRSCG and Michael Bierut of Pentagram. The result? Serious is hip! Thinking is cool! Headlines from the magazine's last two years were wrought in aggressive neon throughout Chelsea's Exit gallery, looming like Orwellian aphorisms: "THINK AGAIN."
"Smart is exciting, and questioning is profoundly cool and invigorating," said publisher Jay Lauf. "Let's get jazzed about thinking again!" (Well, we have to be jazzed about something these days! And, you know, thinking is free.)
A screening room showed a sleekly-produced film titled the Atlantic.project, (there's where some of that re-branding budget went!) in which the big neon questions were placed about the city. Passers-by were asked everything from "Should Women Settle?" and "Who Will Own Your Next Idea?" (Some answers: "Hopefully me, unless it's on MySpace," and "The Chinese.")
What about the more depressing questions about the future of the industry? Although The Atlantic recently increased its ad prices and rate base, Mr. Lauf said he'd been talking to a lot of clients that evening, many of whom were "retrenching."
"Anyone who says it's not going to be a rough year is lying," said Atlantic Media president Justin Smith. But! "Serious times call for serious brands and serious thinking-and I'd rather be the Atlantic than US Weekly right now." (This from the magazine whose attention-grabbing April cover featured a paparazzi shot of Britney Spears.)
Editor-in-chief James Bennet remained hopeful but self-deprecating: "We like the readers we already have, we just want more of them. We haven't always done a good job of getting [the magazine] in front of people. It's an exciting, perplexing, confounding time. Who knows if we can pull it off!" He waved his hand towards a neon sign that reading WHEN IS EVIL COOL? "But that's what we're hoping to do with all of this."