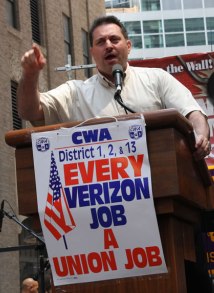 Yesterday the largest union in the state, 1199 SEIU, endorsed Republican State Senator Serf Maltese of Queens, leaving Maltese's Democratic challenger, City Councilman Joe Addabbo, at something of a disadvantage.
But the state's second largest union, 32BJ, an affiliate of 1199 in the SEIU apparatus, just said they will support Addabbo.
The communications director for 32BJ, Matt Nerzig, e-mailed yesterday to say the effort in support of Addabbo is "unmatched by any other union in this race." The union will be "deploying dozens of member volunteers into Queens this Thursday, again next Thursday and once again the following Thursday to support Addabbo."
It will be interesting to see which union has the superior political operation.
Maltese narrowly won his reelection two years ago against a relatively unknown candidate, but the latest poll showed the candidates tied at 42 percent. It's a dead heat, and the winner may come down to who identifies and turns out the most supporters.
There is one thing 1199 and 32BJ do agree on: Both have declined to take a public position on whether the City Council should change term limits legislatively.
UPDATE: A high-ranking 1199 official called to refute the idea that the union isn't taking a position on term limits. The source says 1199 is being "deliberative," and has been active behind the scenes.