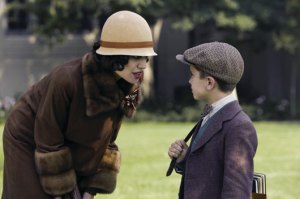 Changeling
Running time 140 minutes
Written by J. Michael Stracynski
Directed by Clint Eastwood
Starring Angelina Jolie, John Malkovich, Amy Ryan, Jeffrey Donovan
Clint Eastwood's Changeling, from a screenplay by J. Michael Straczynski, takes place in a prodigiously painstaking re-creation of period Los Angeles from 1928 to 1935. To see a trolley car clanging along past neatly spaced Model T-shaped vehicles in Los Angeles is to feel oneself floating back into the dear, dead past. And the flapper costumes for the women in the picture, along with the mandatory hats worn by men until J.F.K. disabused them of the habit at his inauguration in 1961, completes the illusion.
A foreword after the opening credits tells us that the amazing events about to unfold really happened once upon a time. So any lapses in logic or probability can be chalked up to that most illogical of all scenarists: reality. Angelina Jolie plays Christine Collins, a single mother with an 8-year-old son, Walter (Gattlin Griffith), who simply vanishes one day while she is at work. It turns out that she is employed as a telephone company switchboard supervisor on roller skates, no less, to cover the vast area in which all the women took and sent calls. This period detail must be authentic because I can't imagine anyone inventing it.
At first, the police show little interest in the case. But as the radio and print media take up and talk up Christine's complaints, the authorities tag her as a troublemaker who has to be silenced because of how she is embarrassing the department. In this respect, at least, today's sob-sisters on the cable channels would never allow such gross misconduct of law enforcement to occur.
Then a boy claiming to be Walter Collins, though eventually revealed to be another missing boy named Arthur Hutchins (Devon Conti), is transported by the police from another state five months after Walter's disappearance. At the train station, Christine realizes instantly that the boy is not her son. But cajoled by the police and news photographers to pose with the boy, and still needing the police to continue the search for her real son, she agrees to pose and take the boy home with her as if he were the real Walter.
There she confirms her own worst fears as she detects several major physical discrepancies between her son and the remarkably poised and self-confident imposter. She tries to persuade the police to continue the search for her real son, but to no avail. A police "psychologist" sent to quiet her hysteria ignores all her evidence to the contrary, and insists that she is imagining things. Armed with an examining dentist's statement that the boy purporting to be Walter Collins could not be her son, she goes to a radio station with her story of a Kafkaesque substitution. She is assisted by a religious radio commentator, the Rev. Gustav Briegleb (John Malkovich), a longtime scourge of the corruption in the LAPD.
When Captain J. J. Jones (Jeffrey Donovan) learns of the broadcast, he orders Christine's immediate arrest and confinement in an asylum for dangerous sociopaths. The LAPD begins resembling the Gestapo in its total disregard for human rights. After being divested of her clothes and her dignity by a vindictive cadre of female nurses and male orderlies, she is brought before the institution's chief psychiatrist. Despite the warnings she has received from another wrongfully confined inmate, Carol Dexter (Amy Ryan), on how not to respond to the analyst's questions, Christine finds herself in a no-win situation when the analyst triumphantly produces a newspaper photo of Christine smiling as she posed with the faux Walter at the train station as a proof of her current delusion that he is not her son. Still, he eventually offers her the option of a complete release from custody if she will sign a statement admitting her delusion.
This she refuses to do. For her obstinacy, Christine is on the verge of undergoing a brutal session of electroshock treatment already administered in all its sickening effects on Carol Dexter. But a split-second before the switch is to be turned on for Christine, the good Reverend Briegleb arrives on the scene with a posse of lawyers and judicial warrants to release Christine, and ultimately the rest of the wrongfully incarcerated inmates.
On another front in the narrative, we are confronted by a new character, Detective Lester Ybarra (Michael Kelly), who, in investigating a routine illegal immigration case from Canada, literally unearths on a chicken farm in suburban Los Angeles one of the first serial killer crimes in California. There the axed remains of more than a dozen children are found. Walter Collins may or may not have been among the victims.
The focus then shifts to the murderer himself, a mercurial young lunatic named Gordon Northrop (Jason Butler Harner). We follow him from his arrest all the way through to his trial and to his vividly depicted and somewhat gruesome death by hanging. As for Christine, she continues to hope for Walter's return, and will presumably do so for all the days of her life, with only the slightest glimmer of romance in the future.
A print afterword to the film tells us that the leadership of the Los Angeles Police Department was removed in the aftermath of the Christine Collins scandal, and reforms were enacted to protect citizens' rights. Yet, a few years later on the Los Angeles calendar, Roman Polanski and Robert Towne's Chinatown (1974) shows us an LAPD as corrupt as ever.
Still, Chinatown now stands out as one of the great American films, whereas Changeling doesn't and probably never will. Why? The writing and direction are competent enough. It is well enough acted by Ms. Jolie (though her heavy lipstick seemed to me to blow up her lips to Betty Boopish proportions), Mr. Malkovich, Mr. Donovan, Mr. Kelly, Mr. Harner, Ms. Ryan, and the two child actors, Master Griffith and Master Conti. Also commendable are James J. Murakami's production design, Tom Stern's cinematography and Deborah Hopper's costuming. Nevertheless, Changeling lacks Chinatown's passion and humor, and seems much too long for its one-note subject. True or not, there is a limit to how much unjustified persecution can be dumped on a character without the audience beginning to feel manipulated. In the '30s and '40s, Warners turned out a steady stream of police melodramas, a few with social significance, but they were all comparatively short and breezy, not seemingly endless dirges on the underdog. Mr. Eastwood, particularly, with his finely honed noirish instincts, should have sprinted more and cantered less.
asarris@observer.com