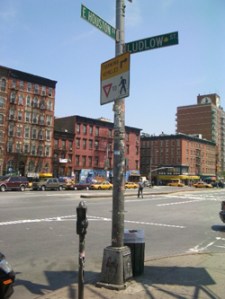 We like to think greening is more than a passing style, and that the idea of sustainability is taking root in our values and becoming a real presence in our communities. One of the neighborhoods that is working hard to re-brand itself green is the lower east side of Manhattan. In fact, the environment will be big in that community this Sunday, when a street festival will feature everything from chocolate apple truffles to CFL light bulbs. Dubbed Apple Day, the one-day event will highlight Go Green Lower East Side, a new environmental initiative kicking off this weekend by handing out 500 such eco-friendly bulbs to help educate households about going green.
"This is a community-led effort to create a roadmap in the Lower East Side for sustainable living," said Rose Pierre-Louis, Deputy Borough President of Manhattan. The focus is education, and community partners will hold talks and give out information on how to improve one's environmental footprint.
"You can start by doing something as simple as changing your light bulb, and that becomes a gateway to further greening," Pierre-Louis added.
The Lower East Side (LES) is already an eco-friendly neighborhood, and a lot of stores there are aware of going green. Noelle Frieson, from the Lower East Side Business Improvement District (LES BID), referred to Kate, a clothing line, and Moo Shoes, a foot-ware brand whose products are animal-free. "They're a hub of that vegan, environmentally-conscious lifestyle," Frieson said.
Apple Day is one of many activities hosted by Greenmarket and the LES BID, whose goal is to revitalize the local economy. The non-profit organization pulls together more than 600 merchants and property owners to help promote and market local businesses, host free public events and provide community beautification services, including sanitation, security and graffiti removal.
The event is not focused on the big picture, said Frieson, but on providing practical tips on things residents can do to be more eco-friendly in right here in New York City. In addition to the environmental element, the event works to promote a healthy community. Neighborhood businesses, such as Café Katja and Biscuits by Lamb Chop, will serve samples of everything from apple bread to chicken apple sausage to apple dog biscuits. Babycakes, a vegan bakery famed for its dairy-free cupcakes, will talk about how to maintain a vegan lifestyle.
"If you look at health disparities in these neighborhoods, you'll see three things: high levels of asthma, obesity and diabetes. These are all connected in terms of food-access issues," Pierre-Louis said. It can be really hard to find fresh fruits and vegetables in the low income neighborhoods of New York.  In East Harlem and Inwood, two other areas in which the Go Green project has been launched, another key issue is access to transportation. In the LES, gridlock is a major problem, and so congestion is a major issue.
"The goal is to encourage families to get outside and not rely on getting into a car when they want to go somewhere," said Pierre-Louis. Frieson noted that bringing foot traffic to the area would also allow people to enjoy the shops and restaurants there, a benefit for both the LES BID and Go Green LES, an initiative of Manhattan Borough President Scott M. Stringer.
The Go Green LES steering committee comprises more than 100 Lower East Side community residents, leaders organizations and business people. The committees are broken into six groups focused on issues such as parks and open space, transportation, green buildings, and public health and asthma. It is the third initiative launched by the Manhattan Borough President's office and is dedicated to reversing decades of environmental injustice and degradation by bringing together residents and leaders of the LES to develop a plan for greening the neighborhood.
The event will also celebrate the history of the LES, and the New York Historical Society and New York Restoration Project will be on hand to share stories about the Delancy Apple Orchard that occupied Orchard Street back in the 1700's.
"It is an event aimed at celebrating the history of the Lower East Side and showing off all the cultures that live there and have contributed to its uniqueness," said Frieson, highlighting the healthy cuisine and locally-grown produce that will be available.
All over New York, community groups are working to bring sustainability principles into our daily lives. This is how change really happens. Day by day, person by person. This Sunday, show your support by heading down to Orchard Street and joining with our friends from the Lower East Side.
New York City Apple Day
Sunday, October 19th from 11:00am through 4:30pm  
Location: Orchard Street between Broom and Grand