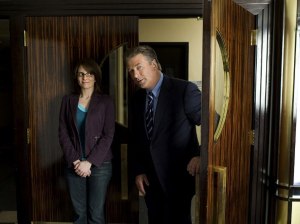 As you have no doubt already heard, the season three premiere of 30 Rock is available online at this very moment. (Hooray! It looks like we have something to do this weekend!) If you're one of those old fashioned folks who wants to wait until next Thursday to watch the show on an actual television set, you can still get your 30 Rock fix over at Paste Magazine. In preparation for season three, they've compiled a list they call "The 30 Best Moments from 30 Rock Thus Far". Being through only two full seasons, you might think it's hard to come up with that many noteworthy moments. Well, it's not! It's actually too constricting — by limiting the list to only thirty choices, Paste misses some obvious (to us, anyway) choices.
With few exceptions, they don't mention any of the show's hilarious guest stars. Mistake! While by this time next year, being a guest on 30 Rock will seem clichéd (from the looks of season three expect to see an average of 2.3 famous stars per new episode), now it's still very cool. Picking just one guest star from the lot is truly a feudal enterprise, but what about highlighting Elaine Stritch as Jack's mother. The woman is flat out perfect whenever she appears on the show and she won an Emmy award for her work. Plus, let's be honest, pairing Alec Baldwin with Ms. Stritch is a stroke of casting genius. You're telling us they couldn't squeeze a clip of her in onto a list of 30?
Also, while our favorite 30 Rock moment changes by the hour, we find it hard to believe that nothing from the season two episode when Liz Lemon dates a boy seventeen years her junior made the list. Hello? If there is a funnier line of dialogue than Jack asking Liz if she met her new boy "at an Amber Alert," we haven't heard it.
For their money, Paste chooses Tracy Jordan's Halloween novelty song "Werewolf Bar Mitzvah" as the top choice, in what was no doubt an upset over the number two selection, Jack channeling the characters of Good Times to help Tracy through some familial issues.
You can laugh along with the rest of the top-10 here. 30 Rock premieres October 30th at 9:30 p.m. on NBC.