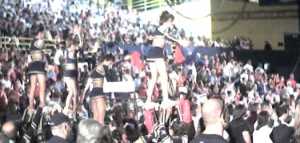 MIAMI—John McCain is about to appear at a rally in a packed gym here at Florida International University, where a giant American flag is hanging over the stage like a canopy between two big blue banners, one reading "Florida" the other "Victory." Pro-McCain signs are written in Spanish and English, and a large Cuban contingent in the crowd is cheering and waving "Cubans for McCain" placards. Most everyone is waving blue and red pompoms. Also, there are cheerleaders.
The first speaker was Florida G.O.P. chair Jim Greer, whom the McCain campaign forced to book his own travel arrangements around the state after he criticized Sarah Palin's very poor performance in the Katie Couric interviews.
Inside the gym, he did his best to make it up to them.
"Isn't it a great day to be a Republican in Miami?" he asked, to great cheers. He said that the "way of life on God's green earth is at stake," and his mention of "the Democratic nominee Senator Obama" was met with such thunderous booing that he felt compelled to add that Obama was "an honorable man." (More boos.)
Greer said that Obama "can't wait to get on Air Force One and visit your nation's enemies" as opposed to "Senator John McCain, a man who has served his nation with great distinction."
The mention of Palin's name prompted more high-pitched cheering, and Greer said, "She makes more decisions in one day than Senator Obama might make in one year."
The crowd started chanting "Country First, Country First" and Greer responded "the political pundits, the political pundits, the liberal media, they won't let the message get out."
He stressed how important it was that they vote for McCain because "we know here you don't get to the White House until you win the state of Florida."
He argued that "this campaign is about the issues," but added, "There is nothing wrong about talking about judgment and character too!"
With that the crowd cheered again.
A few minutes later, former Florida Governor Jeb Bush presented reasons why they should vote for McCain. First among them, because he would keep America safe. ("Say what you want about my brother, but he has kept us safe.") The crowd roared. Also, he won't sit down with dictators in "Iran, Venezuela and Cuba." (The crowd roared again.) And he believed in the working man, not just Joe the Plumber but "Suzy the Florist and Harry the High Tech Entrepreneur."
Charlie Crist, who spoke next, called the final weeks of the race "giddyup time."