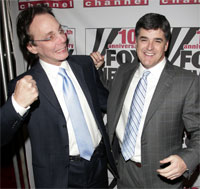 Earlier this week, Richard Huff of the New York Daily News broke the story that conservative pundit Sean Hannity had signed a new multimillion dollar contract with Fox News, which will keep him at the cable news network through 2012.
"The new deal will keep Hannity as one-half of the nightly show Hannity & Colmes, which he does with Allan Colmes," reported Mr. Huff. "Today, the nightly show he hosts with Colmes has been No. 1 at 9 p.m. among the cable news networks for the past 58 months."
How's Mr. Colmes doing?
Today we checked in with Mr. Colmes' personal blog, Liberaland.
There, Mr. Colmes has just posted some fun feedback from Fox News fans. The e-mails offer a nice window into the life of Fox News' most prominent prime-time liberal.
"I have to say I wonder if in a previous incarnation you were a member of the Hitler Youth," one fan writes to Mr. Colmes.
"You hate America, you, like Obama want to see us lose the war, and you want to see Obama put his turbin back on and turn this country into a terrorist state where people like you who bow down to popularity instead of standing up for freedom survive," writes another fan.
"I WOULD KILL MY SELF IS I WAS KIN TO YOU!!!!!!!!!!!!!" writes yet another.
Hang in there, Mr. Colmes! 2012 is just around the corner.