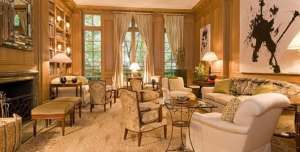 How do hugely disgraced telecommunications analysts live? They live well. They live in neo-Federal mansions built during the Chester A. Arthur administration. They take either the iron-and-bronze staircase or the elevator from the basement's 20-foot-wide game room to the fifth floor's bedrooms and balconies.
Sotheby's has listed Jack and LuAnn Grubman's townhouse at 12 East 81st Street, an 11-room, five-bedroom, six-bathroom (plus two "half baths") mansion, for $32 million, more than five times what the couple reportedly paid for the house in 1999. Responding to requests for an interview, broker Lois Nasser wrote a two-word e-mail declining comment.
Starting in '99, Mr. Grubman, then the lead telecom research analyst for Citigroup's Salomon Smith Barney, but also a star in its telecom investment banking, "issued fraudulent, misleading, and otherwise flawed research reports," the S.E.C. said when he was barred for life from the securities industry. Citigroup paid $2.65 billion to settle allegations that, among other things, Mr. Grubman, a friend of WorldCom's Bernie Ebbers, had helped inflate WorldCom's stock.
It was also in 1999 that Mr. Grubman sent New York's most famous preschool-related e-mail. "Given that it's statistically easier to get into the Harvard Freshman Class than it is to get into pre-school at the 92nd Street Y (by the way, this is a correct statement), it comes down to 'who you know,'" he wrote his boss, Sandy Weill.
Citigroup pledged $1 million to the school. The same month, Mr. Weill, an AT&T board member, asked Mr. Grubman to "take a fresh look" at its stock, which he then upgraded from "neutral" to "buy." He boasted in an e-mail that Mr. Weill had wanted the help of AT&T CEO Michael Armstrong in a boardroom fight. "Once coast was clear for both of us (i.e. Sandy clear victor and my kids confirmed) I went back to my normal negative self," he wrote in an e-mail. "Armstrong never knew that we both (Sandy and I) played him like a fiddle."
But a nice townhouse can cushion the blow of public disgrace. He told Fortune in 2005, "I was going to leave the industry anyway," and that his twins got into a top public school just around the corner from the townhouse, which he said was about to be featured in House & Garden.
According to Ms. Nasser's listing, the renovated house has full-height oak paneling in the living and dining rooms; an eat-in chef's kitchen with a dumbwaiter to the butler's pantry; custom Italian marble in all the bedrooms' en-suite bathrooms; and an ivy-covered garden.
mabelson@observer.com