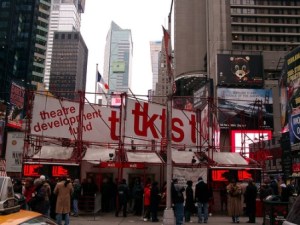 The Federal Reserve on Wednesday released their seventh and second-to-last Beige Book report of 2008 (PDF), finding depressing economic trends in virtually all of the Fed's 12 districts nationwide. But what about the Second District, which includes all of New York, northern New Jersey and southwestern Connecticut?
Some highlights:
Same-store sales in preexisting shops are down 1 to 5 percent in October from a year earlier, although New York continued to outperform the rest of the region considerabely.
Retail prices are steady, although they are not specificied in the report, with moderate gains in some cases and inventories are reported to be hovering close to desired levels.
Hotel occupancy rates in September, also unspecificied, are lower than comparable figures from last year and have slid since reaching 90 percent in August.
Room rates have actually increased in September since last year, but are also unspecified, and advance bookings for October and November have weakened noticeably since the same time period last year.
Broadway's attendance and revenues are up approximately 6 percent from last September.
New home sales and construction activity has waned considerabely in northern New Jersey, with many builders offering substantial discounts.
Multiple sources are estimating that single-family home sales are down by 20 to 25 percent in northern New Jersey, and New Jersey's Gold Coast is starting to show weakening prices and sales activity after outperforming much of the surrounding area.
Co-op and condo sales softened slightly in New York City in the third quarter compared to last year, while the inventory of unsold units increased by approximately 35 percent from a year ago.
Many manufacturers have reported tightening credit conditions and truck-industry sources are reporting that the pre-holiday season will be considerably weaker than it has been in recent years.