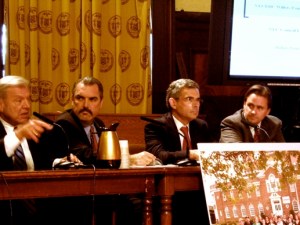 Following testimony at today's Willets Point hearing before the City Council, I caught up with Dan Scully, vice president of Tully Construction, the largest landowner in the 61-acre industrial site and a driver of much of the opposition to the Bloomberg administration's redevelopment plan for the area. [More on the political controversy surrounding the issue here.]
Despite giving testimony against the plan and the full-court opposition effort, Mr. Scully said Tully is still in active negotiations with the city, though he did not seem hopeful that an easy solution was on the horizon.
"We've always had an open door to the EDC. We've told them what we want," he said. "We heard from them, 'Gee, we don't have enough money,' or, 'Gee, we can't move you to this location because there's problems over there.' So just because we're talking doesn't necessarily mean that we're accomplishing."
Tully, which owns about one-fourth of the private land at Willets Point, is a large construction contractor in the area and has worked on numerous city- and state-led projects, including portions of the redevelopment of the World Trade Center, the new water-filtration plant in the Bronx, and the creation of Hudson River Park. If the city were able to cut a deal with Tully, it would likely make the plan far easier to get through the Council.
The company, which has numerous affiliates, also has a waste transfer station on the property at Willets Point, which is difficult to relocate given the resistance of neighborhoods to having a new garbage center and a frequent flow of trucks.
What to do with the transfer station has factored into talks with the city. "That's one of our biggest problems," Mr. Scully said. "We've been trying to say, 'Hey guys, what are we going to do, how are we going to move this?' And we haven't been getting answers. We've come up with some possible areas, but to date, there's nothing solid."
In his testimony before the Council, Mr. Scully was highly critical of the city's redevelopment plan for the area, questioning the city's claims that it will only spend $400 million on acquisitions and infrastructure; that it is unable to install infrastructure such as sewers without first clearing the site; and that pollution on one site would seep into a neighboring new development.