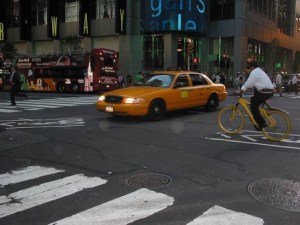 The day after the Department of Transportation released a report showing a modest increase in city cyclists (PDFs here and here), a federal judge blocked the city's plan to enforce strict emission standards on taxis that would have taken effect this Saturday. The two developments are indicative of the city's stop-and-start progress in its effort to "green" transportation in the five boroughs.
The cycling screenline count tracked bike traffic on 16 of the city's north-south arteries during three separate 18-hour intervals in May, August and September and found that cyclists increased from 53,003 in 2007 to 56,203 in 2008, a 6 percent increase of 3,200. Bike traffic slowed considerably on Broadway, dropping from 1,123 in September 2007 to 656 in September 2008, but it also increased sharply on Fifth Avenue, Sixth Avenue and Ninth Avenue, where a divided bike path was erected in the fall of 2007.
Biking commuters increased more substantially, as bike traffic on the Staten Island Ferry and on the Brooklyn, Queensboro, Williamsburg and Manhattan bridges increased 32 percent annually, from 27,907 in May, August and September of 2007 to 36,687 in the same months of 2008. The Williamsburg Bridge continues to serve the most bike commuters, although the two bridges serving south Brooklyn's green-conscious crowd are busy as well.
Until it was blocked by Judge Paul A. Crotty, the mayor's emissions-standards initiative would have enforced a strict 25 mile-per-gallon requirement on all new city taxis starting this Saturday. While the judge recognized some validity in the taxi operators' secondary argument that hybrid taxis lack the durability to withstand city driving, he based his ruling on the belief that local emission standards are preempted by federal agencies.
This defeat is the mayor's first major transportation policy setback since his congestion pricing plan was defeated in the State Legislature earlier this year, according to CityRoom; he released a statement after hearing of Judge Crotty's decision. "We are very disappointed in the decision and we are exploring our appellate options."