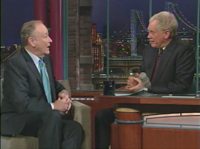 Fox News' newly-reupped host Bill O'Reilly appeared on Late Show with David Letterman last night.
As you may recall, Mr. O'Reilly and Mr. Letterman didn't get along so well when they met in 2006, but this time, the two got on just fine, making small jokes at each others' expense but smiling the whole time.
Mr. O'Reilly told Mr. Letterman he admired vice presidential nominee Sarah Palin, describing her as a "self-made woman" and offering an impersonation of ABC News' Charlie Gibson interviewing her about The Bush Doctrine.
In September, Rolling Stone's Jason Gay (a former Observer editor), interviewed Mr. Letterman at length and prompted the following exchange:
In recent years, you've also been praised by some for confronting people who aren't terribly used to being confronted, like Rush Limbaugh or Bill O'Reilly.
It's been so long since I even thought about Rush Limbaugh. I remember in the beginning I had the impression that here's a guy who clearly knows better than what he is saying, but knows it's a show-business hook. I sort of feel the same with Bill O'Reilly. I even said so much to him. Maybe he feels that way, maybe he doesn't, but I made the mistake of taking Bill O'Reilly way too seriously, because he's just like any other boob. I hope he's coming back on the show because I would treat the whole thing differently now.
In which way?
Well, I think in the beginning I felt like I had some sort of responsibility to attack everything he said and try to counter it with my own intelligence, but that reservoir is pretty shallow. So now I think, "Well, here's a guy who really is no different than Paris or Regis, so I'll just sit there and make fun of them." It doesn't make any difference what they're saying, I just make fun of them.