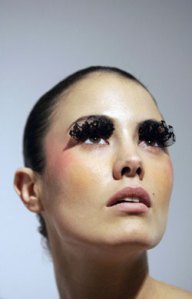 Danielle and Annick Mayer were shopping at the East Houston Street branch of American Apparel on Sunday, Oct. 19, both wearing thick eyeliner by NARS around their lids. They'd given the vivid cobalt color careful thought. "I tried deep purple, but it made me look like I was really tired, with pinkeye," said Annick, 21, who lives in Williamsburg.
"Black is really intense," said Danielle, 24. "And everyone wears it."
Meanwhile, up at Sephora on Fifth Avenue at 48th Street, Hilary Danailova, 33, was among the ladies pawing frantically through racks of shadows, creams and unguents. "Every single woman I know wears mascara every day," she said. "But most of them don't even bother with lipstick. If their lipstick washes off, they don't bother fixing it."
For the better part of a decade, the face of New York womanhood has been dominated by a pillowy, glistening, Restylane-enhanced Jessica Rabbit mouth. It was the self-satisfied, lip-licking, inflated look of a long economic boom.
What seems more appropriate given the current mess we're in?
Doe-in-the-headlight eyes.
All of a sudden the streets are awash in colorful liner, lash conditioner, eyelid rhinestones and powders for a finely arched brow. Estée Lauder's TurboLash, battery-powered vibrating mascara, which retails for $30, is currently being sold at a 60 percent markup on eBay. On Wednesday, Oct. 22, Lancôme will roll out its own version, Ôscillation—7,000 oscillations per minute!—for $34. "Normally you have to wiggle the wand to avoid clumping," said makeup artist Annabelle LaGuardia. "This does the wiggling for you." Skeptical? Lancôme might have been, too. They didn't make enough of their magic wand, and now the waiting list numbers 13,000.
Women are also going batty for an eyelash conditioner called RevitaLash (retail price: $150), made out of a friendly chemical called (Z)-7-[(1R,2R,3R,5S)-3,5-Dihydroxy-2-(R,E)-3-hydroxy-4(3- trifluoromethyl)phenoxy)but-1-enyl)cyclopentyl]-5-Nethylheptenamide. "It's like Rogaine for your eyelashes," said makeup artist Erica Gray, calling from the bucolic Connecticut set of HGTV's Design Star. "If you use it for a month, I kid you not, your eyelashes look twice as long."
Pregnant, nursing or skeptical of advertising slogans such as "There has been NO RECALL on the product"? Don't worry; less toxic alternatives abound.
Eliza Petrescu, who runs the cult eyebrow-waxing Eliza's Eyes salon out of the Exhale Spa on Madison Avenue and 77th Street, added eyelash extensions ($150 for the service) just over a year ago. This is a couture operation. "Don't go to someone who will automatically sell you the full set," Ms. Petrescu said. "Go to someone who will do what's right for your face."
The DIY false eyelash market is growing, too, buoyed by the fluttery fillies of the L train. Ms. LaGuardia recommended "individual eyelashes, little clusters of eyelashes," such as those made by Make Up For Ever for $14. "They're more natural than a strip lash."
Meanwhile, Ms. Gray warned to brace in the coming months for a deluge of false eyelashes that come with rhinestones at the base. The look is intended to be "over the top, for holiday parties."
'Purple is Huge'
Please note that there are dissenters to the super-fringed look. "Bobbi Brown doesn't believe in fake eyelashes," said Marisa Caruso, one of the company's makeup artists at Bloomingdale's. Rather, Ms. Brown would like to "enhance your natural beauty."
No thanks, Bobbi! Even more than false eyelashes, eyeliner and shadow are now about tacking stuff onto your natural beauty. Think Amy Winehouse, with her liquid liner. Or Prince, circa 1988. "Purple is huge this year," Ms. Gray said. "You can play around with a dark purply, smoky effect or a funky pop of violet."