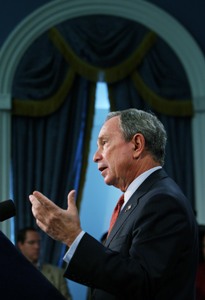 Asked about issues surrounding his bid to change the term-limits law, Michael Bloomberg offered few specifics.
At a Governor's Island press conference about the park project, a reporter asked the mayor why the Charter Revision Commission–which could have put the issue of term limits on the ballot for voters to decide–still hasn't been formed, even though the mayor announced he would do so back in January.
"We've been talking about it. You can't get everything done," Bloomberg said. He said he would appoint members after the November election.
Later, I asked him to elaborate on the process by which he sought public input before declaring he'd like a third term. (When he made the announcement last week, he said he had received a lot of feedback from the public on the issue.)
"What you don't understand is, I work in this city–24 hours, seven days a week, 25 hours, eight days a week–and I occasionally even relax. But you meet people all the time, and you meet people in business context, you meet people in social context, you meet people on the subway coming down this morning and it's a good chance to get a feel for what people want. And if people want to express themselves, they're never reticent to do that."
Bloomberg's way of getting feedback is usually a little more scientific.