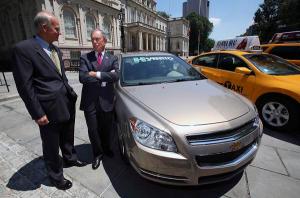 A federal judge just blocked Michael Bloomberg's effort to require the city to switch its fleet of taxis from standard gas-guzzling sedans to hybrid vehicles, saying it violates federal law.
More on hybrid taxis here.
This was supposed to be part of his environmental legacy, but like some other big ideas, it's not coming to fruition.
UPDATE: Here's the statement from poor David Yassky, the Councilman whose success after years of advocating a transition to a hybrid fleet now looks to have been negated:
"Today's ruling is a major disappointment and a huge step backward for the greening of our city. I believe this suit was wrongly decided, and I intend to continue the legal fight on this issue. With our child asthma rate more than twice the national average, it is our kids who will suffer most from dirtier air, and New Yorkers should be upset with that outcome.

"I remain as committed to hybrid taxis today as when I first introduced this legislation, and in the coming months, I expect to work with the Mayor, the Council and our federal representatives to put New York squarely back on the path to a greener fleet.

"Next week, our city could have taken a major step forward. Now, we will have to wait a little longer. I have no doubt that we will succeed in making every single taxi in New York City a fuel-efficient vehicle."
Yassky was also a fan of congestion pricing.