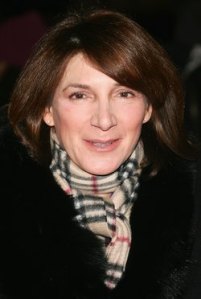 In her post-tabloid days, Bonnie Fuller has found some curious new ways to stay relevant.
The former editorial director of American Media (Star, Shape, Men's Fitness, Natural Health and Fit Pregnancy) is currently the CEO of Bonnie Fuller Media, which she founded with former Viacom interactive division head Russ Pilar. Once launched, the Web start-up will approach Ms. Fuller as a brand and will feature her blogging about topics such as gossip, fashion and romance, HuffPo reported in June.
In the meantime, Ms. Fuller–perhaps to flex her Web muscle–has taken to blogging on The Times' The Moment blog. And as of two weeks ago, she's even begun Twittering!
So far, she seems to be using the Twitter mostly to crowdsource: "OH guys — I hear that since Wall St started crashing people are having more sex ie comfort sex. And if you're tight on money –it's FREE!" Ms Fuller posted four days ago.
Two days prior to that, she asked this of her 125 Twitter buddies: "doing some research: what's the last thing you'd give up in dire times? haircuts? color? facials? massages? new shoes?"
Lo and behold, yesterday afternoon, Ms. Fuller put up a post on The Moment called "Recession Sex."
"I don't think it's any coincidence that the stock market crashed and recently split-up couples like Jen Aniston and John Mayer, and Sarah Silverman and Jimmy Kimmel, are suddenly back together," the post begins.
Business is booming for the city's sex shops and lingerie retailers, Ms. Fuller informs her readers. "My bet is they're buying lingerie because this is a time when they need to invest in their relationships," she writes.
The previous day, Oct. 15, Ms. Fuller had written about those beauty treatments that she was polling all her Twitter friends about. Women, according to Ms. Fuller, are continuing to spend $275 on skin cream, $260 on haircuts, and $2500 on Botox and Restylane fillers.
"Time will tell, I guess, but the anecdotal evidence suggests that New York women may end up living in a box on the West Side Highway," writes Ms. Fuller. "But we'll still have fabulous highlights and perfectly shaped eyebrows!"
At least Ms. Fuller is trying to find the brighter side of things. After all, in the recession-according-to-Bonnie-Fuller world, the recent financial downturn has brought about better-looking people who want to stay home and have sex all day. And that's not so bad.