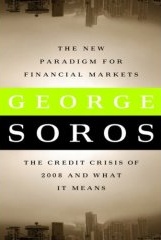 Book retailers, including Borders and Barnes & Noble, are pumping up financial advice books, often displaying the titles in store windows and at key points around the selling floor. From the Wall Street Journal this morning:
"It's been a hot category since the crisis first hit," said Michael D'Agostini, [Borders'] business-book buyer. "We are reordering more in order to keep up with — and get ahead of — the demand."
Barnes & Noble Inc., the nation's largest book retailer, said it has sent a list of titles appropriate for the current crisis to its 796 store managers, and has suggested they set up displays where appropriate. A company spokeswoman said that sales of such titles are going up.
This demand for financial advice books comes on the heels of an ebb in consumer desire for books on how to strike it rich in the housing market.