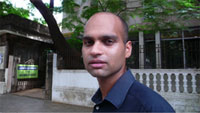 Michael Cader, the man who maintains the subscription-only industry news portal Publishers Marketplace, continues to be vexed by the Man Booker Prize. The committee's insistence on putting forth a "longlist" of 13 titles one month before announcing the actual nominees, and then invariably snubbing the favorite, has infuriated Mr. Cader for years.
The 2008 winner was named last night as he and many other publishing people from the U.S. watched the proceedings on TV at the Frankfurt Book Fair. "Per the traditional pattern, the favorite never wins," Mr. Cader wrote afterwards on his Web site, before revealing that the winner was debut novelist Aravind Adiga's The White Tiger.
Congratulations are in order to Free Press, who first published The White Tiger in America in April and more recently issued a paperback edition. The book originally surfaced in manuscript form at the London Book Fair in 2007, where Tracy Fisher, the international rights director for the William Morris Agency took steps to establish it—along with Rivka Galchen's Atmospheric Disturbances—as a "buzzy" book publishers were excited to see.
Mr. Cader's tone in announcing the news last night was actually relatively dispassionate, compared to how he has sounded in discussing the Booker Prize in the past.
When the longlist was announced back in August, he wrote tersely, before listing the pool of nominees, "Half of these books won't even be finalists for the Booker Prize," and later issued the following indictment:
As conveyed in my original listing of the 'Booker Dozen' that actually comprises 13 books, I'm baffled by the UK's ability to generate attention and debate over a list of non-nominees for the Booker prize (or any other award). Longlists are no measure of distinction and are never remembered so it's hard to imagine how they can "mean" anything, even as the UK press ascribes all kinds of attributes to the books selected (and not). And they're designed to give judges cover to experiment and provoke–in the long term, how can you be irate over a book that was closely considered but never even shortlisted? Over time the script becomes predictable–some big names are included, some are not; a wild card or two is added to generate faux controversy; some first novels/small press novels/obscure works are included–yet each year fresh ink and emotions are summoned.
Then, when the shortlist was announced in early September and surprised many by not including Salman Rushdie or Joseph O'Neill, Mr. Cader wrote, "What a 'shock.' As usual, manufactured 'surprise' is the fuel of the Booker publicity machine, as the 'longlist' turns out to be a head fake for the real shortlist."
Mr. Cader has long treated the Booker with stinging skepticism. After last year's prize went to dark horse nominee Ann Enright, he quoted the chair of the judging panel chiding the U.K.'s reviewers for overlooking new talent and coddling well-known writers and added, with trademark restraint, "Why the judges were even looking at reviews instead of just the books themselves was not addressed."
Back in August 2004, before the longlist was announced, Mr. Cader wrote with not a little contempt, "Only the Brits can make news out of the culling of the Booker longlist, which will be announced later today. The Guardian begins its 'full coverage' with a piece from one of the judges."