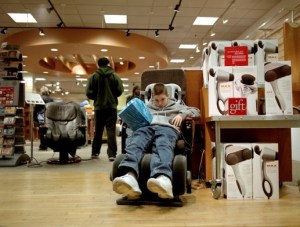 At 500 something and counting, there is no shortage of art galleries in New York, and a list of weekly openings is enough to prompt even the hardiest sort with thoughts of permanent eye strain and possible amputation of the foot.
But knowing that New York is overcrowded and crushing and always has been–isn't that why you moved here from Montclair in the first place?–is of little consolation when a promising young gallery goes too soon. Such is the case with Bond Street Gallery at 297 Bond Street, in the Carroll Gardens neighborhood of Brooklyn. Yesterday notice came that owners Bruce Kramer and Robert DiScalfani were closing the gallery after less than a year.
In its short life (the gallery opened in March), Bond Street Gallery put on a couple of strong shows of photographs ranging from established masters (Walker Evans) to youngish up-and-comers. The gallery's last show, "Revisting America," is especially good, with photos by Timothy Briner, Justin James Reed, Michael Vahrenwald and Angie Smith.
The show was originally scheduled to run until Nov. 15 but has since been cut. Saturday is the last day. Then the gallery closes, and if you believe in this sort of thing, there is a spooky coincidence between what's on view at the gallery and what's in store for it. Ms. Smith, for instance, photographs brand-new exurbs in fertilizer colors: sod turf, vinyl siding, and sheetrock. Now add a foreclosure sign.
"The owners got impatient," Bond Street Gallery curator Amani Olu told the Observer. Mr. Oiu, 28, was hired in June. "Revisiting America" was his first show. "I was under the impression that I had a year to get things going — to organize great shows, built contacts with artists and collectors. Those things don't happen fast. It just doesn't happen that way."