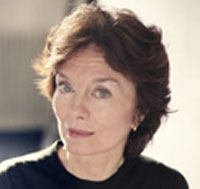 The publishing community was stunned this morning with news that the British literary agent Pat Kavanagh has died. Ms. Kavanagh, who was 68, was reportedly diagnosed with a brian tumor after collapsing on Friday, and passed away early this morning.
Ms. Kavanagh, who was married to the novelist Julian Barnes, made headlines in the UK last fall when she led several dozen colleagues out of one agency (PFD) and brought them all over to a rebel colony called United Agents that she helped establish. Though Ms. Kavanagh was not technically the chief of the new shop—Caroline Dawnay and Simon Trewin are listed as the co-heads—she was regarded as a spiritual leader, and her loss is a severe blow to an agency that only recently moved into a proper office.
Ms. Dawnay told the Web site BookBrunch that Ms. Kavanagh had been away from work for a month, but that everyone had hoped she'd be back.
"I worked with Pat for 31 years and I've lost the best colleague I could ever have had," Ms. Dawnay said, noting that not all of Ms. Kavanagh's clients—a formidable list that included such heavyweights as Joanne Trollope, Andrew Motion, and Robert Harris—had been made aware of her illness.