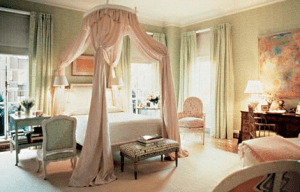 This time last week, The Observer was glumly obsessing over all the listings that had just been given multimillion-dollar price cuts. But nothing was as tooth-rattling as this: WWD is reporting that Brooke Astor's 778 Park Avenue duplex has been cut from $46 million to $35 million.
That, if you're counting, is nearly a 25 percent discount, which is good news for bargain-hunters, and downright devastating for high-heeled uptown real estate brokers–not to mention high-heeled uptown real estate owners–who are clinging to the idea that their impeccable apartments are immune to the worldwide financial crisis.
Here's a glimmer of hope: the Corcoran listing still says $46 million. Broker Leighton Candler did not return a call or email.
Last month, Ms. Candler gave The Observer a tour of the place: "The chandeliered private elevator landing and the 30-foot-long front gallery (which includes a hidden wet bar with scotch, gin, vodka and bourbon; a fridge; six shelves of crystal; plus an opening to the servant's quarters) barely prepare you for the stupefying perfection of the three main public rooms." Stupefying perfection no longer costs $46 million.