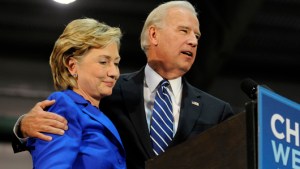 SCRANTON, Pa.—For a while, the political rally that took place in here on Oct. 12 seemed to be happening in a parallel universe in which Hillary Clinton is running a general-election campaign.
Scranton, of course, is Clinton Country. Older white women constituted the majority of the crowd inside the Astroturf-carpeted sports complex, and many of them wore Hillary buttons on their shirts. Several of the men wore Hillary buttons on the suspenders they used to hold up their jeans. Bill delivered an address attesting to his wife's wonderfulness. Vice presidential candidate Joe Biden spent the first portion of his speech talking about how close he was to Clinton. Barack Obama was nowhere to be found.
"Hillary and I are truly friends," said Biden, wearing a dark suit, white shirt and striped blue tie. He also talked about "the thing I love about her" and "the reason I feel such a kinship to her." He said he meant this in "earnest," that he was "serious," and "I mean it."
It was only after he felt he had firmly established his connection to Clinton and her popularity with the white working-class voters who are supposed to hold the key to delivering Pennsylvania that it became clear that he segued, rhetorically and politically, into the actual business of getting himself and Obama elected.
With Clinton nodding and sipping water behind him in an electric blue jacket and black pants, Biden launched into his own often-thunderous stump speech. He brought up Sarah Palin's position on global warming, that she didn't know what caused it but just wanted to find a solution. He then asked accusingly, "How the hell, heck, are you going to change it unless you know what caused it?" The delighted crowd roared.
He mocked Palin's effort to mock him for having suggested that it was patriotic to pay taxes, arguing that it wasn't patriotic to make millions and hide profits in tax shelters. Middle-class people, he said, paid their taxes. "So I don't need a lecture on patriotism, I've had it up to here," he shouted, nearly karate chopping his own neck. Again, the crowd erupted.
He made several references to his deep Scranton roots and mocked McCain's tardy acknowledgment of the seriousness of the financial crisis by saying, "Folks, that's what we Catholics call an epiphany." He cited the three general-election debates so far and joked, "If this were a five-game series, I think it would be over by now." And to defend against the McCain character attacks against Obama that are designed to resonate with people in places like Scranton, where race-based suspicion of Obama ran high during the primary, Biden said, "These attacks don't hurt me. They don't hurt Barack Obama. They hurt the American people." He added, "Beyond the attacks, what is John McCain really offering?"
He concluded by beseeching the Americans who had fallen on tough times to "get up" with him and Obama.
"I'm ready," he screamed again into the microphone. "You're ready. Barack Obama is ready! It's our time. So get up, Pennsylvania! Get up, Scranton! Get up! Deliver this election to Barack Obama!"
By that point, with the frenzied crowd cheering and Biden God-blessing the United States, Clinton seemed to have receded into the background as another surrogate on the stage.
An hour earlier, though, as the event was getting under way, it was clear that she was the star attraction, as Senator Bob Casey asked the crowd to give the Clintons a hand before they even appeared onstage. When they did make it out, they appeared with the Bidens.
Jill Biden spoke first, pointing out that she was from Pennsylvania. The audience applauded politely. She said that Joe Biden was from Scranton. They applauded more loudly. She welcomed Bill Clinton. Some people stood up and applauded. Then she introduced Hillary Clinton and the place erupted, screaming, "Hillary! Hillary!"
Speaking next was former President Clinton, who wore a dark suit and an orange tie. He had self-consciously raised his eyebrows and chuckled when Jill Biden had said Americans "don't remember" what it was like when there was a president who looked out for them.
"My job is to introduce Hillary so that she can introduce Senator Biden," Clinton said, adding that he would have to slip away early because "I have been dispatched by the Obama-Biden campaign to go to Virginia, where we are going to win."
He emphasized the word "dispatched" for an undetermined effect.
He said he had thought more about the election lately because he hadn't been thinking about politics, but about life. He talked about a christening he and Hillary had attended that day, and how "I looked at little Simon Joseph getting his head wet today," and how that made him understand how important it was for the baby's future that the country elect Obama and Biden to repair the economy and America's standing in the world.
When he said, "Barack Obama could not have made a better choice" than Joe Biden as vice president, Hillary sipped water and nodded. He also said he'd "spend the rest of my natural life" showing his appreciation to the people who supported her.
He sought, once again, to preempt criticism that she wasn't doing enough to support Obama, despite the fact that she has, by agreement with the Obama campaign, avoided making any significant news in the course of her campaigning.
"She has done 50 events for Senator Obama," he said, arguing that she had done more than all the runners-up in the primary combined. "The reason that's important is that more than three-quarters of you supported her."
Moments later, Hillary stepped up to the podium. "We wanted to be here together," she said, because "we must elect Barack Obama and Joe Biden on November 4."
She said she had been "crisscrossing the country" to "make sure the Republicans lose the White House."
She had some barbs prepared for McCain.
"To John McCain and George Bush, the middle class isn't fundamental, it's ornamental," she said. She said Obama and Biden were the best choice to rescue the country's struggling economy. She asked the crowd to remember the strength of the American economy under President Clinton, spread her arms, urged the audience to "think back" and said, "We've done it before and we'll do it again. America will once again rise from the ashes of the Bushes.
The crowd chanted, "Hillary, Hillary."
"Barack Obama and Joe Biden are for you and that's why I'm for Barack Obama and Joe Biden," she said, then added that she was "deputizing every one of you" to go out and make the case to their reluctant friends and neighbors. "Barack and Joe are not asking you to marry them. They are asking you to vote for them and vote for yourselves."
Clinton then gave way to Biden. He embraced her and planted a kiss on her forehead, spoke glowingly of her commitment to the underdog and said that when Obama would sign health care reform into law, Clinton would "hand him the pen." Then he moved on.