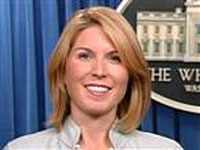 Ana Marie Cox, former Washington Editor of Radar, conducted a long interview with CBS News political analyst-turned-McCain-Palin campaign advisor Nicolle Wallace for Tina Brown and Barry Diller's Web site, The Daily Beast. (The Observer's Felix Gillette spoke with Ms. Wallace earlier this month.)
Early on, Ms. Wallace jokes that she walks her dog, Lily, "in Central Park with a group of wonderful, flaming liberals who I love and I love their dogs," but soon enough, Ms. Cox gets down to some serious questioning:
What are the media lessons people can learn from this election?
I think the networks have re-emerged as the arbiters of what story gets through. Of late, we've paid so much attention to the impact of blogs and the democratization of media—everyone can be a blogger and you can sit in your home. It's almost as the cycle got to such a proliferation of information that I think people returned to the morning paper, the evening news as the arbiter of what is the important story. So while I think there's more information out there, I think that it's almost overwhelming for, you know like my mom and dad. They know what's on the news at the end of the day. Newscasts and the compilation of a front page, has re-emerged as a place for information to be organized and consumed.
Asked to name her role models, Ms. Wallace listed former Clinton White House Press Secretary Mike McCurry, former Bush White House Under Secretary for Public Diplomacy and Public Affairs Karen Hughes, Counsel to the President Dan Bartlett, all around fun guy Karl Rove, George W. Bush 2004 re-election campaign manager Ken Mehlman, and, finally, her old boss Katie Couric, saying "talk about grace under fire."