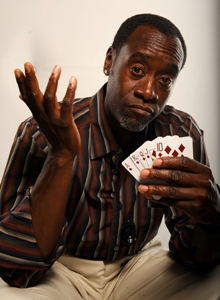 We're probably in the minority here, but we weren't the biggest fans of Iron Man. Not that we were immune to the charms of Robert Downey Jr., flying robot suits and plucky sexual tension, but something about the entire film just felt slightly… off. To us, Iron Man played like a studio executive's idea of dumb summer fun and not real dumb summer fun. However! We're already extremely excited with the direction the sequel is going in, since it seems set to be light years ahead of the original.
According to the Hollywood Reporter, Don Cheadle will replace Terrence Howard in Iron Man 2 playing Jim Rhodes, best friend to Tony Stark/Iron Man. Apparently Mr. Howard and Marvel Studios parted ways after a financial disagreement, which doesn't surprise us based on the fact that Marvel low-balled director Jon Favreau before finally agreeing to terms with the director. It looks like Mr. Howard got the blowback from that negotiation.
In the first go around, Mr. Howard was a complete misfire. With acting skill that reminded us of Cuba Gooding, Jr. post-Jerry Maguire fame, he looked overwhelmed and under-talented compared to his other co-stars. Perhaps Mr. Howard needed a larger role to help rev up his slow burn engine, but it didn't help that Mr. Downey Jr. had more chemistry with the HAL-9000 knock-off that controlled Tony Stark's house than he did with Mr. Howard, Tony Stark's supposed best friend. Mr. Cheadle, on the other hand, has become adept at sharing the screen with superstars in big budget spectacles thanks to his excellent work on the Ocean's movies. He seems very comfortable with appearing in a handful of scenes and cutting through the clutter to make a great impression.
In an odd twist of fate, it appears that Marvel would like Jim Rhodes to have a larger role in the upcoming sequel, as the character will eventually become War Machine in the Iron Man universe. Does that mean we could be in store for a Don Cheadle spin-off superhero movie? Sweet! If Tobey Maguire and Robert Downey Jr. can do it, we don't see why Mr. Cheadle can't.