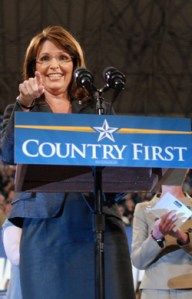 When we want news about Saturday Night Live, there's only one person we go to… Cindy Adams! The New York Post gossip columnist reports via TV Tattle that Sarah Palin will indeed be appearing on the next new edition of Saturday Night Live, set for Oct. 25. According to Ms. Adams, it's a "done deal" and "sketches are already being written."
The latter claim sounds a little off to us. Does anyone actually think the Saturday Night Live writers prepare anything two weeks in advance? Having watched the show for our entire lives, we can say pretty firmly that it doesn't seem like they do. Regardless, at least this finally (finally!) puts to rest a week's worth of stories about whether or not Ms. Palin will actually show up at Studio 8H. And a weary nation breathes a sigh of relief.
Excitedly, Jon Hamm (a.k.a. Don Draper!!) will be hosting the episode, with Coldplay as musical guest.