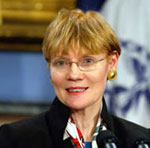 Emily Lloyd, commissioner of the city's Department of Environmental Preservation, is headed to the real estate industry, as she resigned her government position to take a job as chief operating officer of Trinity Real Estate.
Ms. Lloyd assumed the DEP commissioner job in 2005, after the departure of Chris Ward, who is now executive director of the Port Authority. Trinity, the real estate arm of Trinity Church, is a giant in the business, and is in the process of transforming the Hudson Square neighborhood west of Soho from a former printing district into an office space hub. Trinity, the major landowner in Hudson Square, is also spearheading the creation of a new, well-funded business improvement district for the neighborhood.
The real estate firm is run by Carl Weisbrod, who worked for the city in the Dinkins administration.
Also in today's city staffing changes: The mayor officially crowned Robert LiMandri as commissioner of the Department of Buildings, after he served for more than five months in an "acting" capacity in that role. The mayor pushed through a legislative change to allow his promotion to happen, despite objections from architecture and engineering groups. The legislation removed a requirement that the commissioner be an architect or engineer.
Statements from the mayor and Ms. Lloyd below.
STATEMENTS BY MAYOR MICHAEL R. BLOOMBERG AND DEP COMMISSIONER EMILY LLOYD ON COMMISSIONER LLOYD'S RESIGNATION
Statement by Mayor Michael R. Bloomberg:
"New York City is losing an effective and passionate public servant in Emily Lloyd, who resigned this morning as Commissioner of the Department of Environmental Protection. Emily served with great distinction and we are extremely grateful for her dedication to the City she loves. Emily is moving on to be Chief Operating Officer at Trinity Church's real estate operation and they are more than lucky to have her.
"In February 2005, Emily took the helm at DEP at a critical moment in the life of the City's infrastructure, particularly for long-term stability of the City's water infrastructure, and she met the challenge. She has achieved vital successes: making major progress on the Third Water Tunnel by completing the tunneling for the project; improving environmental capital project management; and modernizing DEP's customer service bureau by streamlining collections, improving billing and enhancing customer service. Under Emily's leadership, the federal government recognized DEP for its watershed protection, earning New York City status as one of only five cities in the country with such high quality drinking water that the majority of its water supply does not require filtration – saving the City billions of dollars.
"Emily has had a long and distinguished career in public service, including serving as Commissioner of the Department of Sanitation under both Mayor Dinkins and Mayor Giuliani. I wish her all the best and thank her for all she has done for New York."
Statement by DEP Commissioner Emily Lloyd:
"During my nearly four years as Commissioner, we made tremendous progress in implementing Mayor Bloomberg's ambitious environmental agenda, directly confronting the difficult issues he asked me to address when he appointed me Commissioner. I am grateful to have worked for a Mayor that placed environmental stewardship at the top of his agenda and grateful to the Mayor for the opportunity to lead this extraordinary department that touches the lives of New Yorkers every day. I was privileged to work with such a dedicated group of men and women at the department and I thank them all their efforts at Department of Environmental Protection."