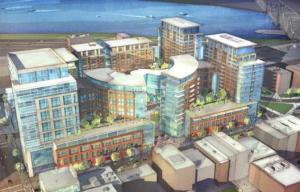 The Bloomberg administration has designated a team led by Chicago-based developer General Growth Properties and Archstone Smith to construct a 1.7 million-square-foot mixed-use, mixed-income complex on East 125th Street, the city announced today.
The selection was coupled with a vote on the project by the City Council, which this afternoon approved a rezoning of the site that runs from 125th Street to 127th Street, between Second and Third avenues.
Developer General Growth–which is a leader on a team that includes Archstone-Smith, the Richman Group, Monadnock Construction, the Carey Group, Hope Community and El Barrio's Operation Fightback–faces financial troubles nationally. Federal regulators named General Growth as one of nearly 1,000 stocks banned from short selling last month, as the company has investors concerned about its outstanding debt.
Its stock has dropped 92 percent in the past year, falling from $55 a share to about $4.50. Today alone, the stock is down 43 percent.
The project is one of the rare Bloomberg administration initiatives for which city officials backed down amid community resistance to their initial plan, and then developed a more palatable concept with community support.
Back in 2006, the city was ready to move forward with a $1 billion development by Urban Strategic Partners that would have put in 700,000 square feet of commercial space and 1,500 apartments, 80 percent at market rates. But the community and local elected officials cried foul, and the city scrapped its plans with a pledge to devise a new plan with the community.
According to figures from the city, the $700 million plan approved today calls for more than 800 apartments, three-fourths of which would be targeted for families and individuals with middle and moderate incomes; 250,000 square feet of office space; and 30,000 square feet of nonprofit-run cultural space.
The numbers released by the city did not address a signature element of the site, the retail and entertainment space. Before the last-minute public selection of General Growth, the city called for about 470,000 square feet of entertainment and retail space in the project, according to figures in a report from the Manhattan Borough President's Office.
The project is to be built on mostly city-owned lots (the city says it controls 82 percent of the site), though the Bloomberg administration is attempting to acquire the remaining parcels.