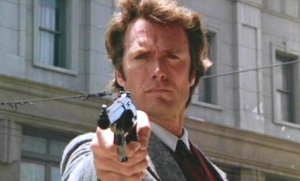 Clint Eastwood is the hardest working septuagenarian this side of John McCain. Fresh off the release of his first Oscar hopeful, Changeling, comes the trailer for his next Oscar hopeful, Gran Torino. Someone tell the man to take it easy! In the film, the 78-year-old Mr. Eastwood stars as a tough and grizzled widower who overcomes his severe prejudices to help the Hmong family next door in their struggle with gang violence. Sounds good to us, even if the premise seems more movie-of-the-week than Best Picture. Plus, who can't get behind a movie where Mr. Eastwood points a rifle at some local ruffians who have made the mistake of fighting on his property and snarls, "Get off my lawn." Badass! Those of you searching for 2008's version of "I drink your milkshake" can probably stop now.
We admit, we have never been the biggest fans of Mr. Eastwood's 21st century work behind the camera; his films always feel weighted down by their own self-importance. However, we'll give him credit for being an economical and brisk storyteller. Unlike those windy younger directors, Mr. Eastwood is definitive in what he wants. That, at his advanced age, makes even his most hackneyed films refreshing. Gran Torino looks like another taut effort from the acclaimed director that will fit in seamlessly on his IMDB page.
But what intrigues us most about the film is Mr. Eastwood's performance. Surrounded by largely unknowns and non-actors, the star plays yet another in a long line of old and old-timey dudes trying to find their way in a world they no longer understand. It's a part that Mr. Eastwood has been doing variations on since Unforgiven, which would bother us if he weren't so darn good at it. (Tommy Lee Jones, feel free to take some notes.) While this year's Best Actor race is already over-booked with talent like Brad Pitt, Leonardo DiCaprio, Sean Penn, Mickey Rourke, Josh Brolin and Frank Langella, we'd be shocked if ol' Clint and his 1973 Gran Torino didn't figure out a way to crash the party. Is there any chance the Academy won't try to reward Mr. Eastwood one last time before he scowls off into the Hollywood sunset? We don't think so.
Gran Torino hits theaters on December 17th.