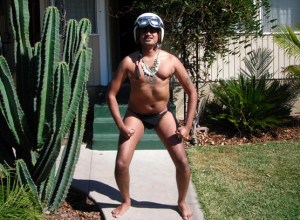 Though last night's show at the Music Hall of Williamsburg, known officially as Rhapsody Rocks, wasn't a CMJ event, it certainly felt like one. There were the corporate sponsors (Rhapsody, Beck's), the free beer, a massive guest-list, and a slew of great bands—Jay Reatard, The Duchess and the Duke, King Khan and the BBQ Show, and headliners Mission of Burma. Of course, the major difference would be that Burma is hardly the fresh new band of which CMJ is made; they released their debut EP 27 years ago. Guitarist Roger Miller, bassist Clint Conley, and drummer Peter Prescott couldn't have been younger than 45 and they had the gray hairs to prove it. Last night was about paying tribute to one of the godfathers of indie rock—and therefore, most of the bands performing at CMJ—and less about its future.
Still, Jay Reatard certainly played like he was gunning for some future glory. Over the last ten years or so, the Memphis high-school drop-out has released a furious stream of singles, EPs, and other recordings both as a solo artist and as any of the 15 bands he's been in. Reatard's performance last night, backed only by bass and drums, was just as relentless. Running through countless tunes from his recent Matador Singles '08 and Blood Visions collections, Reatard wrapped his well-worn influences—the Ramones, Wire, the Wipers—into two-minute blasts of frantic energy, his curly blond hair and Flying V guitar wailing all the while. The kid didn't stop for 45 minutes.
Which made The Duchess and the Duke's performance a bit of a let down. Between pulls off a bottle of red wine, singer/guitarists Kimberly Morrison and Jesse Lotz performed unadorned folk pop shadowed by dark, often wry, lyrical imagery—as if Leonard Cohen were fronting the Mamas and the Papas. But while the duo's harmonies managed to endear at first, by the last couple of tunes their pitch problems had become a distraction. I kept looking at my watch; audience members rolled their eyes. The Duke's court had grown restless.
But then the inimitable King Khan arrived with his partner in crime, Mark Sultan (a.k.a. BBQ). You may know the Berlin-based Khan from his other band, the fantastic psych-funk outfit, King Khan and the Shrines. If you so, you probably know the guy's completely mad—and a hell of a lot of fun. (Just listen to the interview with Khan at the end of this Pitchfork.tv clip.) Khan, who was raised in Montreal by Indian parents and couldn't be less than six feet tall, walked onstage wearing nothing but silver panties, a sequined V-neck shirt pulled tight over his beer gut, a necklace fashioned with seashells, and a giant kinky black wig. While BBQ sat behind a simple kick drum with a miniature black guitar on his lap and a giant pink turban on his head, Khan and his buddy proceeded to blow through a righteous mess of rockabilly, doo-wop, and early punk. And the kids at the Music Hall of Williamsburg loved it. I didn't think you could mosh to Chuck Berry riffs until I ended up doing it myself, using my moleskin notebook both as a battering ram and a shield. Good times…
I was bummed to see Khan go, but then I noticed the "OBURMA FOR OBAMA" sign draped over the amp to my left. As Mission of Burma appeared, the crowd close to the stage notably aged, the younger hipsters fleeing for Khan's merch table or the beer line. Unlike nearly everyone on the official CMJ roster, Burma had nothing to prove. Like any other canonical band returning to the stage later in life, they needed only to show that they could still have a good time. Which is precisely what they did. Whether they were playing old favorites like "Academy Fight song" or newer tunes off 2004's Onoffon or 2006's The Obliterati, the trio swaggered and swayed to their music's deafening charms. Eyes bulging and faces grinning, Mission of Burma played sloppily, but convincingly and without apology. Burma may be one of indie rock's founding fathers, but they've yet to settle down.