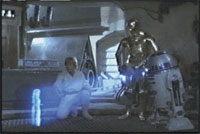 Are you ready for this? Next Tuesday, at CNN's Election Center in New York, an Obama campaign strategist will be in the studio to comment on the incoming voting results. Only he'll be … (wait for it) in 3-D! As a hologram!
Instead of the normal flat-screen version of talking heads, the Obama spokesperson's image will be projected from Chicago and into the New York studio — in a 360 view. CNN anchor Wolf Blitzer will essentially be talking to the strategist just like when Princess Leia sent Obi-Wan Kenobi a hologram message that he was her only hope. Only there will be talk about Ohio, rather than Alderaan.
USA Today has the story and they say CNN also plans to conduct similar holographic interviews with McCain representatives in Phoenix.
How will it work? CNN will be shooting with 44 cameras at each location simultaneously (so they can capture their subject at every angle). Twenty computers at the site, combined with the New York office's hardware, will process and project the image in the studio. The subjects will see Mr. Blitzer and other CNN-ers on TVs at the locations so they can communicate with them properly.
CNN has been on top of their gadget game for the election. The New York Times had this story in April about their enormous, nifty touch-sensitive map that allowed CNN political reporter John King to zoom in on specific cities and towns to display election and polling results. They finally found a way to give the ol' numbers story some visual spunk.
Now they're getting into the 3-D realm. The guy behind it is David Bohrman, CNN senior vice president:
'Everyone is doing something virtual this election year,' says CNN Senior Vice President David Bohrman, the guy who pushed the technology. But Bohrman believes CNN is going where no network has gone before by employing Hollywood-style effects. 'Virtual elements in a real set look so much better than a real person in a virtual set,' he says.
Election night is like the Summer Olympics and Super Bowl for network news divisions, and each is carting out eye-popping technical toys to draw viewers.
'For the big game, you see all the bells and whistles. The real challenge this year is new stuff that will travel easily on multiplatforms,' says Andrew Tyndall, publisher of TyndallReport.com, which monitors television network news. 'Not only must this look good on TV, but on portable devices like cellphones.'
The USA Today story also has updates on some of the things other networks are doing (including lots of HD content and touch-screen maps). But if election night is the Super Bowl, CNN certainly has the Prince halftime show performance this year.