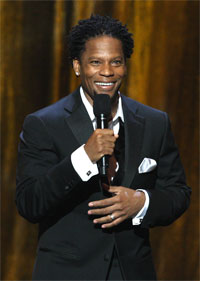 CNN is getting into the comedy business.
Executives at the cable news channel announced today that starting Oct. 25, CNN will air a Saturday night comedy show hosted by D.L. Hughley, in which the comedian mocks the news events of the previous week and interviews the real-life reporters who covered the stories.
The show is tentatively named D.L. Hughley Breaks the News.
"D.L. is a news junkie who is bursting with things to say about what is going on in the world—most of them funny, all of them thoughtful, none of them predictable," said Jon Klein, president of CNN/U.S. in a release today. "When you watch as much news as our audience does, there comes a time you just want to stop and laugh – and that time will be Saturday nights at 10 on CNN."
From the release:
The show will emanate from CNN's New York studios before a live audience, taking full advantage of CNN's worldwide newsgathering resources. It will air on Saturdays at 10 p.m. and replay on Sundays at 10 p.m. (ET)
"I am very excited for the opportunity to work with the network that I have watched for a very long time, and that to a large extent, has shaped my comedic view," Hughley said. "CNN offers the perfect blend of news and information on a local, national and international level. What more can a comedian ask for?"D.L. Hughley is one of the most popular and highly recognized standup comedians on the road today and has also appeared in several feature films and television projects.
Hughley recently appeared in a one-hour stand-up special for HBO titled "Unapologetic" and hosted BET's hidden camera show S.O.B., as well as the 2008 season of HBO's Def Comedy Jam. Hughley also starred in the Aaron Sorkin drama series for NBC, Studio 60 on the Sunset Strip. Hughley spent four successful years starring in his own sitcom The Hughleys, and in 2005-2006, he hosted his own late night talk show for Comedy Central, Weekends at the DL. It was the mega-hit Original Kings of Comedy that launched Hughley into superstardom. The film, based on the 1999 tour featuring Hughley, Bernie Mac, Steve Harvey and Cedric the Entertainer, garnered close to $40 million at the box office and became one of the highest selling DVDs in 2001.