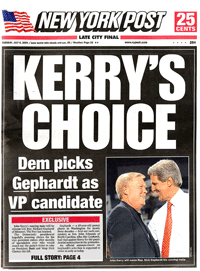 Correction of the day award goes to The New York Post's Page Six, which ran this item today:
The source who told us last week about Michelle Obama getting lobster and caviar delivered to her room at the Waldorf-Astoria must have been under the influence of a mind-altering drug. She was not even staying at the Waldorf. We regret the mistake, and our former source is going to regret it, too. Bread and water would be too good for such disinformation.
The original item, which ran on October 17th, has been scrubbed from the Post's Web site, but that doesn't mean it hasn't had an impact.
Rush Limbaugh's Web site has a transcript of the radio host reading the Page Six item and saying, "Now, the first thing about this is, if I'm the Obamas, I'm thinking, 'Who the hell called the newspaper on this?' These hotels are not supposed to say a word about what goes on in there. Trust me, they do." Mr. Limbaugh also termed the Obamas non-existent meal order "hypocrisy." (Weirdly—appropriately?—Mr. Limbaugh's transcription service renders the hotel's name 'Waldorf-Hysteria.')
Town Hall's Carol Platt Liebau wrote, "Look, I don't begrudge the Obamas their caviar and lobster. I like lobster, too (caviar? not so much). It's just that the whole mentality strikes me as typical of Democrat thinking."
It wasn't just professional talking pointers jumping on the story. This "P.U.M.A." Web site (remember "P.U.M.A."? Good times…) mocked up a fake receipt signed by Ms. Obama. A different site ran with the headline The Audacity of Michelle Obama's $447.39 Snack Tab. Here's another which noted "Obama is swimming in the $$$$" and then quipped, "What does one do with all that cash?"
Then there was this site, which really put the lobster tale in the context of every other smear where it belongs (all caps theirs):
REMEMBER FOLKS:
WHAT OBAMA DOES WHEN HE THINKS NOBODY IS WATCHING IS THE REAL OBAMA:
* A MAN WHO CONSORTS WITH TERRORISTS LIKE AYERS…
* AND PLO-MEMBERS LIKE KHALIDI…
* AND RACISTS LIKE WRIGHT.
* AND WHO ORDERS IRANIAN CAVIAR AND CHARGES IT TO HIS CAMPAIGN.
VOTE ACCORDINGLY.