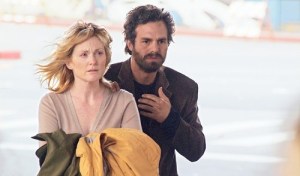 After six weeks of near nothingness at our local movie theaters, Hollywood has decided to reward us by releasing some 23 movies this weekend for us to choose from (actually there are eight, but it seems like more). Couldn't some of these have come out during September, when we actually had time to see them? Sigh. Chances are, you've already heard about Nick and Norah's Infinite Playlist and How to Lose Friends and Alienate People. And we're sure you would never see Beverly Hills Chihuahua. With that in mind, here's a handy guide to this weekend's other new releases.
Religulous
What's the story: Bill Maher's lightening rod documentary about religion (duh) from director Larry Charles (Borat) has been open in New York since Wednesday, but most likely you haven't seen it. Our esteemed colleague calls it "entertaining and somewhat disheartening." Like the vice presidential debate? Sounds good to us!
Who should see it: Sasha Baron Cohen
Flash of Genius
What's the story: Greg Kinnear stars as Robert Kearns, the man who invented the intermittent windshield wiper, only to have his idea stolen by Detroit automakers. Seriously. At least Lauren Graham shows up as Mr. Kinnear's onscreen wife.
Who should see it: Fans of Tucker: A Man and his Dream.
Blindness
What's the story: In an unnamed city, an epidemic of blindness infects all citizens, except for one, played by Julianne Moore. Mark Ruffalo and Gael Garcia Bernal co-star in Fernando Mersailles' latest (City of God, The Constant Gardner). The reviews have not been kind. Our Rex Reed closes his review by saying Blindness is a film where "sightlessness might be a virtue." Ouch.
Who should see it: People who thought Children of Men was too uplifting.
Rachel Getting Married
What's the story: Jonathan Demme's latest film has gotten so much positive buzz that it seems set to be the darling indie hit of the fall. This is Anne Hathaway's coming out party as an actress, and apparently she doesn't disappoint as Kym, a recovering drug addict going home for her sister's wedding.
Who should see it: Us! We've watched the trailer some 50 times over and cannot wait!
An American Carol
What's the story: Airplane! director David Zucker returns with a Red State take on A Christmas Carol, about a Michael Moore-like director who wants to abolish the 4th of July.
Who should see it: The Palin family.