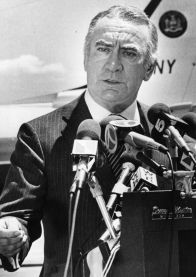 Former Bloomberg communications director Bill Cunningham just called to ask why a statement by former Governor Hugh Carey in support of extending term limits was not posted here.
I told him that, at least for me, what Carey has to say about the term-limits debate right now isn't particularly pivotal. Cunningham, who also worked for Carey, complained that I have quoted other people not directly involved in the term-limits debate, like "a billionaire from Rochester" and State Senator Eric Adams, both who oppose extending term limits.
I told him that in my view, the perspectives of both Adams and Golisano are important because both can influence the debate in a concrete way. A state senator can introduce legislation to change the state law that allows the city to write its own term-limits law, and Tom Golisano, the "billionaire from Rochester," is putting money behind an ad campaign.
Cunningham said I was "filtering" the news unfairly.
So, for Cunningham, here is the statement (transcribed from the HARD COPY he sent me) from one old boss of his to another.
"A recent op-ed in the Daily News by Felix Rohatyn on the subject of term limits inspired me to express my own support for extending term limits in New York City. Felix and I, together with other committed New Yorkers, worked hard to save the City from bankruptcy in the 1970s, and to restore its fiscal health after years of mismanagement. From my experience, when the City and State work together and speak with a united voice to the federal government and the public, the chances for success greatly improve.
Looking at what our City is facing now, I believe we
have the makings of a great team: a mayor who has extensive knowledge of finance, economics and government, and who has a strong relationship
with a Governor who has shown real leadership
since coming into office. Their teamwork, I believe,
is our best bet to lead the City and State through
these difficult times.
In 2001, I endorsed Mike Bloomberg for Mayor- and I was one of the few people to do so – because I believe he had the qualifications to handle the job. When he first came into office, he was faced with a fiscal crisis second only to the City's economy – and its spirit – could recover. But he he made the tough decisions, as we did, and brought the City back.

The economic challenged we face today will extend well beyond Mayor Bloomberg's current term. I think we would be wise to give voters the option to keep him working for the City – and also to keep that indispensable partnership with the Governor that is needed for both the City and the State."